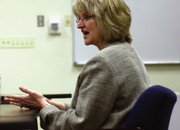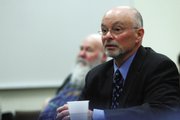 Honest, open and morally sound visionaries.
Moffat County School Board member Sandie Johns said each of the three superintendent finalists impressed her beyond what she hoped.
She described the various attributes she felt they all shared at a special School Board meeting Monday night in the administrative building at 775 Yampa Ave. The board met to discuss the candidates' positives and negatives after all three were publicly interviewed last week.
"The concern is how we're going to make a decision," Johns said after board president Rod Durham asked what final concerns the group had about the three candidates.
Monday's meeting was not called for the School Board to make a decision about whom to hire as Superintendent Pete Bergmann's successor when he retires after this school year but to share the board's views about each candidate with the public, Durham said.
Board member Jo Ann Baxter began the night's discussion with her view of Christine Villard, who now works as Moffat County School District assistant superintendent.
"Christine brings some really great qualities to this position," Baxter said. "Her credentials are impeccable. Her experience level is a little bit marginal, but I think she could learn on the job."
Board vice president Andrea Camp said Villard's understanding of Moffat County and the school district shouldn't be underestimated.
"She knows the members of this community," Camp said. "Certainly, that could be an advantage."
Villard's familiarity could be seen as a weakness, board secretary Trish Snyder said.
"I think there's a perception out there that if Christine is put in that position (as superintendent), things could become stagnant for the district," Snyder said. "I know she'd always be willing to change something to improve our district, but that is out there."
The second candidate interviewed last week, Dennis Wilson, may have the experience to be able to step in immediately and also bring new ideas learned from his past position as superintendent of Uinta County School District No. 1 in Evanston, Wyo., board members said.
Snyder cited his work with various community programs in prior positions - such as on a joint parent and business advisory council for education - as potentially "huge" opportunities for the school district.
Other board members also lauded Wilson's apparent drive to bring groups of people together to work on common issues.
"He's an extremely open communicator," Johns said. "He lays it out. I didn't feel like he held anything back : and I really appreciate that."
On the other hand, board members also thought Wilson may have been somewhat spoiled by the amount of funding available to his district in Wyoming.
Snyder said Moffat County's annual budget is about half what Wilson worked with previously, and that may impact whether he can pursue all the programs he mentioned during his interview.
Board members said the third candidate, Joseph Petrone, of Pinedale, Wyo., surprised them with his passion for education. They also felt his unique background as an administrator at an American international school in Jakarta, Indonesia, could provide new and beneficial aspects to local education.
"That global outlook and experience could be something that serves us here," Johns said. "We've never had that here."
She added that she has heard some rumblings that people are concerned Petrone's work in Indonesia was with too many high-level students - and he therefore would not be as good at relating to underperforming students - but Johns said that was not a problem for her.
"I think that experience is a good thing he could bring to the district," she said, adding that she had no worries about Petrone relating to the local community.
Petrone kept a house near Pinedale while he worked overseas, as well.
The board entered a private executive session at the end of the meeting to discuss salary and contract requirements given by the three candidates.
The board did not make any decisions Monday night and does not plan to make a decision regarding its superintendent choice until the board's regular monthly meeting March 26.
Collin Smith can be reached at 875-1794 or cesmith@craigdailypress.com.