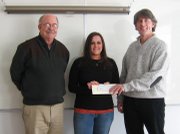 Kristi Jurney, a graduate of Moffat County High School and currently a second-year student in the Colorado Northwestern Community College dental hygiene program, recently was awarded the Deborah Sherman-Hurst Memorial Scholarship.
"Kristi exceeded all of the requirements for the scholarship and will most certainly honor the traditions and professionalism of Deborah Sherman-Hurst," said Mark Patterson, director of the CNCC Dental Hygiene Program.
The $1,000 scholarship was established for second-year CNCC dental hygiene students as a memorial to the late Deborah Sherman-Hurst by her husband, Tim Hurst. Recipients must have a minimum 3.0 grade point average, excellent clinic skills, demonstrate a talent for providing comprehensive patient education and be a Moffat County High School graduate.
Sherman-Hurst was a 1982 CNCC Dental Hygiene Program graduate and remained in Northwest Colorado after graduation to practice dental hygiene in the area.
She lost her battle with cancer in summer 2008.
"Deborah was loved by her patients and made certain each patient was well-informed and fully educated about preventing oral disease and the fundamentals of good nutrition," Tim Hurst said of his late wife.
"Deborah was a life-long learner and worked diligently to maintain her professional skills."