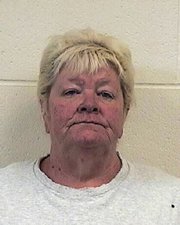 A former Moffat County Department of Social Services employee pleaded guilty to an amended drug distribution charge Thursday afternoon in Moffat County District Court.
Carla Roloff, 58, worked in Social Services' Dinosaur office, where authorities said she sold methamphetamine to an undercover police officer on at least one occasion.
The All Crimes Enforcement Team, an area task force, arrested her at her Dinosaur residence in June 2008, and she was booked into the Moffat County Jail.
Roloff was charged with two counts of distribution of a controlled substance, a Class 3 felony.
On Thursday, she appeared with her attorney, Bill Schurman, of Steamboat Springs, before Judge Sandra Gardner in District Court.
With her attorney at her side, Roloff agreed to a plea deal with the 14th Judicial District Attorney's Office.
She pleaded guilty to attempted distribution of a schedule 2 controlled substance, a Class 4 felony.
Under terms of the plea agreement, Roloff waived the right to appeal her conviction to a higher court.
Roloff, who has two prior felony convictions for larceny and fraud, will be subject to an open sentencing, meaning her sentence will be left to the discretion of the court.
Gardner told Roloff she could be sentenced to probation, community corrections or to the Department of Corrections.
If sentenced to prison, she would face two to six years, the judge said.
The judge ordered a pre-sentencing report on Roloff be completed leading up to her sentencing, which is scheduled for 3 p.m., May 13 in County Court.
During her tenure with Social Services, Roloff was the only employee working at the Dinosaur location. She worked as a clerk, handling program applications from residents and sending them to the Craig office.