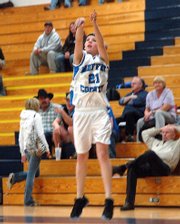 Game statistics
Broomfield 69 Moffat County 29
Score by quarter:
Team 1 2 3 4 total
MC (16-9) 3 5 15 6 29
B (25-0) 24 15 12 18 69
Individual statistics not available
The Moffat County High School girls basketball postseason run came to a screeching halt Thursday night at the ThunderDome in Denver in the game's first eight minutes.
The Bulldogs were overmatched from the game's opening tip, falling 69-29, to the two-time defending state champion Broomfield Eagles, ending the team's 2008-09 season in the Sweet 16.
Broomfield (25-0, 16-0 Northern League) used a 24-3 first quarter to run away from Moffat County on it's way to a 40-point Elite 8 clinching victory.
"They were just better than us," MCHS coach Craig Mortensen said. "We played real tentative, real scared and real nervous. We were just kind of running around like a chicken with our head cut off for a while."
Senior Adriana Prins led the Eagles offense, finishing with a game-high 16 points. Fellow senior Chaundra Sewell pitched in with 15.
Courtney Edington led Moffat County with seven points, while Ariel Sanchez and Amanda Snyder finished with six points apiece.
The Eagles carried their early game success into the second quarter, outscoring the Bulldogs by a 15-5 margin, taking a 39-8 lead into the half.
"It's really hard to change, even little things, in three days," Mortensen said. "We can't go out and reinvent the wheel in only three days. Once we finally got them in the right spots, we did better."
Moffat County (16-9 overall, 12-2 Western Slope League) came out on fire in the third quarter.
Back-to-back 3-pointers by junior Amanda Snyder in the frame's final 10 seconds put the final touches on a 15-12 Bulldog third-quarter advantage.
"We didn't rant or rave or throw any tantrums," at the halftime break, Mortensen said. "We just said, 'Gals, you've got to play with some heart.' One of the things we always say at halftime when we are ahead a lot is 'Look, you play the second half as if the score is 0-0, or a tie game.' I said 'Now we are on the opposite end of things, and we have to play this game the same way,' coming out of the locker room."
But, the 31-point halftime deficit was too much for Moffat County to overcome.
The Eagles closed out the game with an 18-6 fourth-quarter surge, clinching a spot in Saturday's Elite 8 matchup against the winner of Pueblo East and Glenwood Springs.
Despite the loss, Mortensen said the girls have no reason to hang their heads.
A 4-8 start to the season, turned into 12 of 13 wins and yet another trip deep into the 4A postseason.
"We're not disappointed in what they did," Mortensen said. "That's what we told them. I said, 'Girls, we have to erase this game from our minds and remember all the good things that you've done.' Throughout not only this year, but throughout their whole high school career. These kids came in with very little varsity experience. They've won a lot of ballgames their freshman and JV years, they've been preparing for this, and once we got through December, they really had a good January and February."
The season is now over for MCHS' six seniors - Sanchez, Danielle Kawcak, Alicia Nelson, Danette Crofts, Edington and Bauman.
Mortensen said he's always sad to see his players move on.
"We said, 'Hey, we're going to miss you, we love you, remember the good things, take what you've learned, and when (you're) experiencing trials in life : just dig in and get a little bit tougher.'"
John Vandelinder can be reached at 875-1793 or jvandelinder@craigdailypress.com