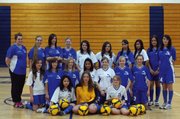 Team information
League: Western Slope League (WSL) Class 4A
Coach: Dave Rodriguez
Assistant coach: Nicole Dolence
Rodriguez with the Bulldogs: First year
Returnees: 11
Players lost: Five
Craig — The head coach is new, the assistant coach is new and nearly half the roster is new, as well.
And that's the way Dave Rodriguez wants it.
Rodriguez is Moffat County High School's first-year man at the helm of the girls soccer program.
"I'm committed to start over from the beginning," Rodriguez said. "I'm going to bring out the best in my team and show everyone that we have what it takes to put Moffat County soccer back on the map."
Rodriguez and assistant Nicole Dolence inherit a program that won one game in 2008.
"We've got a new roster and new people all the way around," Rodriguez said. "People don't look at Moffat County as a soccer powerhouse, but I also think that we've been underrated.
"These girls have had to go through a lot of inconsistency the past few years, and I'm here to change that."
Rodriguez said he has a four-year plan to bring the Bulldogs to the top of the Western Slope, but that doesn't mean the team shouldn't expect to win right away.
"We are going to work our way into having a better team," he said. "The best players are going to play, and I believe these girls have the talent and the desire to go out and be competitive from the beginning. We're going to put a foundation in place, but it's not going to come at the cost of sacrificing wins.
We are going to play to win every time we step on that field."
Nine new players join 11 returning Bulldogs this season, but despite having a young roster, it's a roster Rodriguez is familiar with.
As coach of the U-14 city league team, Rodriguez's system and disciplinarian style of coaching brought success at his previous level.
"A lot of these girls know what to expect from me," he said. "And if they don't, they better pick it up fast. The ones that know me, know my style and are willing to adapt to the system the way I want it run, will be the foundation of this program. They will be the starters, and they will be expected to give it everything they've got."
The team opens its season Saturday at Rifle High School.
"We haven't been outside like we wish we could have, but we're ready to get out there and get the season started," Rodriguez said. "We're itching to get out and play. As far as I'm concerned, the sooner we take the field, the better."
And if Rodriguez has it his way, four years from now - and possibly sooner - people will look differently at MCHS soccer.
"I see us shredding," he said, "and leaving no prisoners."