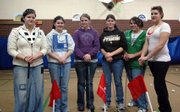 Team information
League: Western Slope League (WSL) Class 4A
Coach: Ann Marie Roberts
Assistant Coaches: None
Roberts with the Bulldogs: Fourth year
Returnees: Two
Players lost: One
Craig — What a difference a year makes.
Last year, the Moffat County High School girls golf team consisted of three players.
This year, that number stands at seven.
Five new ball strikers will tote the blue and white Bulldog golf bag while toiling around the links of the Western Slope.
The number of players on this year's team brings a smile to the face of coach Ann Marie Roberts.
"I think it's great that we have more girls getting interested in golf," Roberts said. "It shows that it's not a dying sport. Having seven girls is only going to strengthen the program and keep it around in the future."
Bonnie Flanders, Sam Fox, Jamie Brown, Jayme Colvin and Haley Bellin-VanGrandt join junior Heather Nicholson and sophomore Callie Papoulas on the team.
"We are ready to get outside and go after it," Roberts said. "Hopefully, the newbies can learn a few things, start to enjoy the game and have some fun."
Nicholson will carry the load as Moffat County's No. 1 player when the season begins March 23 at Cobble Creek Golf Course in Montrose.
Nicholson finished third in the 2008 regionals in Delta after carding an 88 - her best round of the season - and Roberts said she expects the junior's numbers to drop even further this year.
"I think she can easily finish in the top five again at regionals," Roberts said. "And I really think she can finish in the top 10 at state. She's got an all-around good, solid game and her attitude and mental game is her strongest asset.
"She has that laid back type of attitude that is really good to have in the game of golf."
Papoulas returns with a year of experience under her belt, experience that Roberts said should pay dividends when the sophomore tees it up this year in the No. 2 position.
"Once she gets back in the swing of things and gets a feel for her short game, anything can happen," Roberts said. "Anytime you can improve on your short game, your scores are going to drop."
Three individual scores are needed for a team to place, and that's where Roberts said things start to get a little tricky.
"The No. 3 spot is pretty much up for grabs," she said. "We'll just have to wait and see."