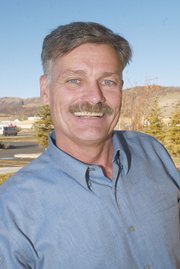 Other action
At its Tuesday meeting, the Moffat County Commission:
• Approved, 3-0, drafting a letter of opposition to Colorado Senate Bill 85, which would exempt businesses from paying a percentage of business personal property tax.
The exemption percentages would start at one percent in 2009 and 2010, then increase each year until 2027, when businesses would be 100 percent exempt from paying personal property taxes.
The bill does not apply to state-assessed commercial property, which includes all public utility and rail companies.
• Approved, 3-0, a personnel requisition for a part-time veterans services officer position.
Veterans Services Officer Bill Harding plans to retire by June 1, and he would like some time to train his replacement before he leaves the office. The new hire is limited to $1,000 in earnings before he or she takes Harding's position, which officials said would keep the program within budget for the year.
Higher taxes don't make anything any easier, said Edward Eitel, a 77-year-old Craig resident now faced with possibly paying an additional $547 in property taxes after this year.
Like many other senior citizens living in Moffat County, Eitel takes advantage of the state's senior personal property tax exemption.
The program provides as much as 50 percent off the first $200,000 of value on property tax bills for residents 65 and older. The exemption only can be applied to a person's primary residence after he or she has owned the home for 10 years.
It seems likely, however, the program soon will be effectively shut down while the state attempts to reduce a $1 billion spending deficit during the current and next fiscal years.
The Moffat County Commission spoke with state Sen. Al White, R-Hayden, about the issue Tuesday. It was the senator's second phone-in appearance to the Commission's regular meeting, a practice he plans to continue the first Tuesday of each month.
White said it is all but a certainty the exemption will disappear for at least one year.
"Honestly, I don't see any way we do not zero out the senior exemption," said White, a member of the Joint Budget Committee. "That's $90 million in our budgeting."
Eitel, a five-year veteran of the U.S. Navy, said he and his wife live mostly on a fixed income.
She works a few days a week, they collect small Social Security payments and hope Medicare can pay for their doctor bills, which can be substantial.
"If you have anyone in the house with macular degeneration (an eye condition that can cause blindness) or diabetes, and they have to drive to the hospital for medical, then at the end of the year you have 3,000 miles added up," Eitel said. "If you think it's easier to be retired, you're wrong."
The Moffat County Assessor's Office has received numerous calls from local seniors asking for information about the senior personal property tax exemption.
The state cannot remove the exemption itself because it was written into the Colorado Constitution, but the Legislature can reduce the exemption to zero at its discretion, said Jennifer Riley, Moffat County Assessor's Office chief appraiser.
White added that he knows that will upset a lot of his senior constituents, and he offered an alternative.
The senior tax deferral program, administered by the state Treasurer's Office, allows residents 65 and older to defer their property taxes until they die or sell their home.
After one of those two events, White said the state takes the built-up tax balance, adds a "modest" interest rate and deducts the sum from the family's sale of the property or from the person's estate.
White said he hopes more residents take advantage of tax deferrals this year than before.
"What I've been finding out, and it really kind of irks me : they say, 'I don't want my heirs to suffer because I can't pay my taxes,'" White said.
He added that he thinks the program's positives outweigh potential negatives.
Moffat County Treasurer Robert Razzano said he disagrees, and it is a shame the state likely will take away the senior tax exemption.
The deferral program has significant dangers, he said. The state can take a person's home if their final tax bill, including interest, is more than their house is worth.
"I don't think the tax deferral program is a good alternative at all," Razzano said. "I discourage most anyone from doing the deferral program. It's unfortunate the state is thinking about taking that exemption away, because we have a lot of seniors in the area, and their tax bills are going to double."
County records show that 490 properties currently receive the tax exemption, while one person is enrolled in the deferral program.
Records also indicate the value of tax exemptions in 2008 totaled $165,483.89. Local seniors on the program will have to make up that balance starting in 2010 if the state zeros the program.
Collin Smith can reached at 875-1794 or cesmith@craigdailypress.com.