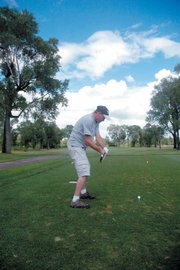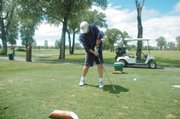 Results
Ninth annual The Memorial Hospital Foundation Golf Tournament
Yampa Valley Golf Course
First gross
• Nick Bomba
• Shane Camilletti
• Chris Reder
• Dyron Heinz
Second gross
• Richard Padon
• Joe Padon
• Brett Etzler
• Wolfgang Glaezer
Third gross
• Nick Navratil
• Glen Navratil
• Dave Higgins
• Willie Barclay
First net
• Eric Knez
• Mike Danielson
• Bill Bertram
• Doug Dykema
Second net
• Len Browning
• Joel Browning
• Jeff Jenison
• Nate Browning
Third net
• Gerry Taylor
• Corey O'Donnell
• Greg McMullen
With an hour to go until the ninth annual The Memorial Hospital Foundation Golf Tournament, a paddle might have been more appropriate than a golf club.
With heavy rainfall and whipping winds in the early afternoon, it wasn't weather for golf.
But sunshine returned in time for teeing off, and the tournament resumed at Yampa Valley Golf Course.
Turnout had never been better, said Eva Peroulis, Foundation coordinator.
"I think we only had one team bow out because of the weather," she said. "Everyone else toughed it out."
By everyone, Peroulis meant 32 teams and 128 people on the course.
Peroulis said TMH Foundation expects the tournament to net between $6,000 and $8,000.
"All of that money will go directly to the new hospital," she said. "And it will be used for everything."
The Golf Tournament holds special significance for the Foundation, as it is the lone fundraiser of the year.
"This is our main fundraiser," Peroulis said. "And I think this is one of the biggest tournaments at the golf course."
The team of Nick Bomba, Shane Camilletti, Chris Reder and Dyron Heinz came in first for gross, ahead of a team composed of Richard Padon, Joe Padon, Brett Etzler and Wolfgang Glaezer.
Nick Navratil, Glen Navratil, Dave Higgins and Willie Barclay finished in third.
The team consisting of Eric Knez, Mike Danielson, Bill Bertram and Doug Dykema finished first for net, with the team of Len Browning, Joel Browning, Jeff Jenison and Nate Browning coming in second.
The team of Gerry Taylor, Corey O'Donnell and Greg McMullen finished third in net.