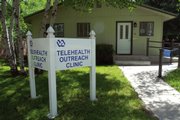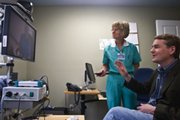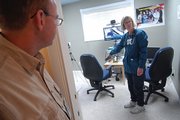 For more
The Craig VA Telehealth Outreach Clinic, 551 Tucker St., provides primary care services for veterans in Northwest Colorado and southwestern Wyoming. Services include primary care visits and follow-ups, health screenings, mental health visits and nurse clinic visits, among others.
Visits are by appointment only. To make an appointment, call 970-263-2834.
April Branstetter, a Hayden resident and registered nurse with more than 30 years experience, hadn't seen too many times when health care and technology intersected.
At least not to the extent she does now, every day as a nurse working at the Craig VA Telehealth Outreach Clinic.
"I was pretty impressed coming from the private sector to here with the technology they have," said Branstetter, who has worked at the clinic since October 2008.
"I worked in the (emergency room) in Steamboat and we would do telehealth very rarely on patients. : That was like once in my time over there. I hadn't seen this, and not to this degree."
Branstetter is one of two full-time nurses at the clinic, a long desired health care option for area military veterans that opened in September 2007.
The clinic, located at 551 Tucker St., sees as many as 50 patients, all of whom are veterans from locations around the region such as Oak Creek, Hayden, Meeker, Clark, Steamboat Springs and Baggs, Wyo., per week. It entails two telehealth rooms and three exam rooms within its 1,300 square feet.
However, the building isn't the core of the clinic.
Rather it's the clinic's technology, which allows patients to interact and be examined by doctors 150 miles away, at the Veterans Affairs Medical Center in Grand Junction.
The nurses are on hand to take a patient's vital signs, handle blood draws, listen to heart and lungs, conduct a physical assessment and provide patient education, among other tasks.
For primary cases, the clinic dips into its technologies. Among other tools, the clinic uses:
• Specialized equipment that allows the patient to teleconference with the doctor in Grand Junction.
• A high-intensity camera that has a magnified view, allowing the doctor to examine things like skin lesions, or post-op wounds.
• An otoscope that lets the doctor look in the patient's ears.
• And a smart stethoscope allowing the physician to listen to the patient's heart and lungs.
Branstetter said it took some time for the clinic to fine tune its operation, but those minor bugs have since been resolved.
"In the beginning, I was a little frustrated because I couldn't get a piece to work," she said. "It took a while, but all of that has been ironed out and it works great. I'm really impressed with the otoscope and the camera."
Branstetter said the technology-based health care the clinic uses is an effective way to provide treatment to patients and a convenient option that saves veterans a trip to Grand Junction, an appealing alternative to driving in the winter months.
"It works out great," she said. "It saves people a lot of driving time.
"From everything I've heard from most of the veterans, they've said they really like it here, and they don't know what they would have done without it. In the winter months, not having to drive to Grand Junction every year for their annual appointment, it has really helped."
The Craig clinic is the only one of its kind on the Western Slope. The VA is preparing to add similar facilities in the Moab, Utah-area, and the Glenwood Springs-area.
Although the VA has made the technological leap, a spokesman for the organization said it also has exercised caution and not just rushed new techs into use.
There's a difference between technology and technology that's been tested and proven to work, said Paul Sweeney, spokesman for the Veterans Affairs Medical Center in Grand Junction.
Technology that works is a primary reason why the clinic, a few months shy of its two-year anniversary, has proven to be a successful health care outlet for regional veterans.
"I would say we're on the cutting edge of proven technology," Sweeney said. "We're not taking chances with unproven technologies because we have our patients' health and safety and privacy to maintain. Not all tech is appropriate. But, if it's a proven tech, then I think we're doing our best to see how we can incorporate it."
Sweeney leaves little doubt about how important technology is to the clinic.
"If technology hadn't made the advances it has in the last few years, we wouldn't be able to do it," he said. "We're going to be able to expand what we do, as well. There's going to come a day, and I don't think it's that far away, when (a patient) is going to be able to come into the Craig telehealth clinic and if (he or she) needs to see a specialist we don't have in Grand Junction, we're going to be able to hook (the patient) in to not just Denver or Salt Lake, but McGuire and Richmond, even Puerto Rico.
"We're going to be able to provide care in the community, where as before it would required either outsourcing it, or shipping the veteran quite some distance."
Sweeney said the reviews the clinic has gotten from veterans it treats, particularly when it comes to talking to a doctor over a TV screen instead of in person, have been positive.
"We've heard a lot of good things about it," he said. "As a matter of fact, a lot of our patients are a lot more forthcoming, and we're not sure why, over the television set than they are in person."
Joshua Roberts can be reached at 875-1791, or jroberts@craigdailypress.com.