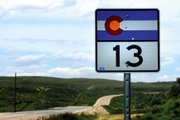 At a glance
• Colorado Department of Transportation finished 4.9-mile stretch of Colorado Highway 13, north of Craig, last month.
• Area improved is between Wyoming state line and winding south, toward Craig. Project cost: $5.8 million.
• Remaining project, a 12-mile stretch between mile markers 111 and 123, needs funding.
• CDOT estimates project would cost $24 million to $26 million.
Having finished a 4.9-mile improvement project on a section of Colorado Highway 13, north of Craig, the Colorado Department of Transportation has now turned its attention to a longer stretch of the same highway.
Last month, CDOT wrapped a $5.8 million improvement project on Colo. 13, starting at the Wyoming border and winding back south, toward Craig.
The project ended at about mile marker 123 on the highway.
"We had this 4.9 miles ready to go because we didn't have to buy right of way and it was a pretty straight forward project," said Dave Eller, CDOT program engineer for region 3, which includes Moffat, Routt, Grand, Jackson and Rio Blanco counties, among others. "It was one of the simpler projects in the corridor, to be honest with you."
The same can't be said for the second half of the improvement project - a 12-mile passage between mile markers 111 and 123 on Colo. 13. Mile marker 111 is about 19 miles from the Craig city limit.
With a substantially more difficult terrain in that area, equaling a more complex project, CDOT estimates improving the 12-mile stretch could cost in the neighborhood of $24 million to $26 million to finish.
"It's more per mile than what the last one was because it's much more difficult terrain," Eller said. "It's a lot more changing horizontal and vertical alignments of the highway. Really, we did the easiest project with that $5.8 million. The rest of it is probably at least $2 million a mile."
As of now, CDOT has no money to pay for the improvements. The department is currently in the process of finishing the project's design, and purchasing right of way.
Beyond that, nothing is certain.
"It has enough money, we believe, to get the design completed, the right of way clearances completed, environmental clearances completed, but we have no construction funding identified at this time," Eller said.
Given the state's tenuous budget situation, making transportation funding more difficult to come by, it's unrealistic to think the 12-mile project will be built all at once.
"Certainly the project will probably not be built in one big construction project," Eller said. "It would probably progress in a series of smaller projects, similar to how we've completed state Highway 13 south of Meeker. We've been progressing down through there four or five miles at a time. I would expect this is maybe a series of - if money comes to us - three or four projects."
A final walk through was conducted on the 4.9-mile project last month.
The contractor, Simon Construction, was awarded the project in April 2008. Most of the project was finished last year, with minor work still to be done after the winter months.
"Really, all they had to do this year was come back and do some seeding, some re-seeding of some areas and some clean up work from the winter," Eller said. "There was not a whole lot of major work this spring, but it had to be completed after the snow left."
As part of the project, Simon Construction reclaimed the 4.9 miles' old asphalt, added four-foot shoulders to each side of the roadway and paved the stretch with five inches of new asphalt.
Also included in the $5.8 million price tag was modest work to mileage outside the 4.9-mile stretch.
Eller said CDOT added a couple of pullout areas and guardrails in spots where data indicated there had been vehicle accidents.
Eller said the portion of Colo. 13 running from mile marker 111 into Craig is not prioritized for a major improvement project. That section, he said, falls under the department's regular pave and management program.