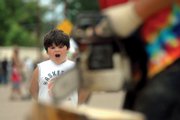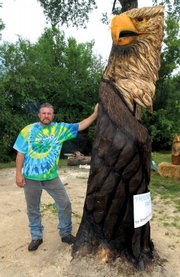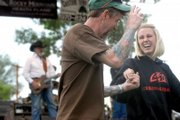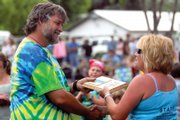 Winners
People's Choice: "Freedom isn't Free," by Sheldon Roberts, of Cañon City
Artist's Choice: "Lil' Miss Moffat," by Robert Waits, of Lander, Wyo.
1st Place: "Mystic Wolves," by Forrest Dorman, of Cañon City
2nd Place: "Mentor," by Faye Braaten, of Loveland
3rd Place: "Natives," by Ron Eye, of Vernal, Utah
Honorable Mention: "Deadly Waters," by Ken Braun, of Cortez
Returning champion Forrest Dorman won another first place honor this year at Whittle the Wood Rendezvous with his carving of wolves.
"I can't believe I won," Dorman said Saturday. "Kind of unfair - everyone deserves to win - but you never know. It's always a surprise."
The announcement of the winners came just after 5 p.m. A panel of three judges deliberated for more than an hour to narrow down the 11 sculptures to the three best.
About 5,000 people gathered throughout the day at Craig City Park to celebrate the closing of the 10th annual Whittle the Wood. Visitors also had a chance to vote for their favorite work.
The artists voted for their peers in a separate category.
The people's choice award, which came with a plaque, went to Sheldon Roberts' piece, titled "Freedom Isn't Free." The piece displayed a towering eagle on the front, and on the back an Army helmet over a rifle.
While working on his sculpture this week, Roberts encountered a few mental blocks.
"I always knew the eagle was gonna be there, but I got to the point where I wanted something more," he said.
In the end, after a few suggestions from people close to him, Roberts said he was "very proud" of his finished product when it was completed Friday evening.
The artists themselves voted for Robert Wait's sculpture, "Lil Miss Moffat," which earned him a plaque.
Waits described his sculpture as a "sexy cowgirl." He came up with the idea from one of his previous works of Jessica Rabbit.
He said he enjoys doing things that are completely different from anything else out there.
"I feel good; you know all my peers voted for me," Waits said. "I've had so much fun watching the reaction from the crowd and the community."
Dorman agreed, especially when among the crowd he found his father, Mark Dorman, who came out to surprise him after driving in from Estes Park. The younger Dorman was excited about his father's visit and took time to enjoy the day after a long week.
Like Roberts, Dorman also encountered some roadblocks through the week.
"My original plan didn't work out, so I just had to let the wood tell me the story," he said. "I'm very satisfied, and I had a really good time carving."
Second-place winner Faye Braaten won with her piece, "Mentor."
Braaten has participated in Whittle the Wood every year since the event started and has placed well in the past, including last year when she took three awards for her piece, "Adrenaline Rush."
Third-place winner Ron Eye is a second-year Whittle carver, who like the rest of the artists, said he enjoyed participating this year.
"This year was more relaxing, but I'm satisfied," Eye said. "It's really hit and miss, you never know."
Although more relaxing than last year when he was competing for the first time, Eye still cut it close, finishing his piece an hour before the judging began Saturday, after battling with his own roadblocks along the way.
After beating the first hurdle of coming up with an idea, the rain slowed him down and he had more problems when a chain saw broke.
Eye carved a Western-themed sculpture that included the head of a buffalo. He got the idea from his piece last year.
After the decisions were made, judges decided one more piece deserved honorable mention.
Judge Mick Tucci said "Deadly Waters," a piece by first-time competitor Ken Braun, from Cortez, was a close decision, but just wasn't able to be "squeezed in."
"It was a difficult thing," Tucci said. "Everything was very good this year."
Yesenia Robles can be reached at 875-1790.