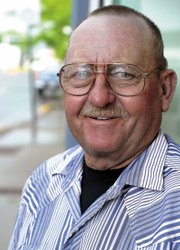 Remember, Father's day is Sunday, which also is the first day of summer.
• The Veterans of Foreign Wars Post 4265 and American Legion Post 62 host meetings Monday and Tuesday nights at the organizations' respective buildings.
The VFW meets at 7 p.m. on the third Monday of every month. The American Legion meets on the third Tuesday of every month.
Both organizations would like to see more members participate in the meetings.
Remember, coffee and camaraderie, plus an update on the events taking place at each organization, are found at each meeting.
• There are fliers around town advertising a general fly-in at the airport. Events are planned, and a flag ceremony will take place.
• I am starting a list of Craig veterans who are not buried at the Craig cemetery. If you have a friend or relative from Craig who is buried elsewhere, please contact me, and next year, when the Memorial Day service takes place at the cemetery, we will read these names.
• I will continue to update the information about the William E. Adams memorial. The response has been overwhelming, and the plans and ideas are coming together.
Craig Community Telehealth Clinic
The Craig Community Telehealth Clinic offers U.S. veterans state-of-the-art technology, as well as onsite nursing support and remote practitioner availability.
The goal is to provide an extensive array of health care services to veterans in a setting that is accessible and professional. To appropriately plan and coordinate visits, access to the clinic is by appointment only.
The clinic will not handle emergency needs. Flu shot walk-ins still are on-going for veterans currently enrolled in the VAMC health care system. For more information, call 824-6721.
Tele-psych services now are available
Veterans can now get tele-pysch services at the Craig VA Telehealth clinic. All they need to do is call 970-263-2824 to set up a follow-up appointment for their mental health visit to be done there.
If there are any questions, contact Jayne Scribner at the VAMC in Grand Junction via phone or e-mail. Her e-mail address is jayne.Scribner@va.gov.
For information about these programs and/or other veterans' benefits, stop in the Moffat County VSO office at 480 Barclay St., call 970-824-3246 or fax 970-824-7108.
Our e-mail address is veterans@moffatcounty.net. The office is open from 8:30 a.m. to 12:30 p.m., Mondays through Thursdays. Other times can be arranged by appointment only.
Bring a copy of your separation papers (DD-214) for application for VA programs and for filing at our office.