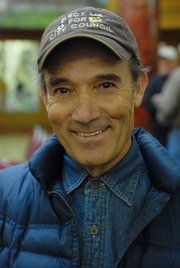 The citation filed against Craig resident Francisco Reina was dismissed Wednesday morning, but the case continues in Moffat County District Court in the form of a civil suit against the city of Craig.
A legal team led by the American Civil Liberties Union of Colorado filed the countersuit for Reina.
Reina was a candidate for Craig City Council in the April election. He declared on his campaign expense forms filed with the city that he spent $1,512.78 of his own money during his campaign.
That amount is more than three times the limit allowed by the Craig Home Rule Charter, so the city cited Reina with a Class A municipal violation, which carries possible penalties of as much as a $1,000 fine and as many as 180 days in jail.
But on Monday, days before Reina's scheduled first appearance in municipal court Wednesday morning, his defense team filed a civil suit against the city in District Court.
Reina's attorneys stated in their complaint that they want a judge to declare Craig's charter provision on campaign expenses in violation of a person's right to free speech.
The complaint also requests the court file a permanent injunction against enforcing the provision, as well as financial awards for attorneys' fees, court costs and "such further relief as the court may deem just and proper."
Members of Reina's legal team said they could not provide an estimate for how much their fees might be, because they do not know how long the case will last. Whatever the outcome, however, they said Reina will not have to pay for anything.
For Reina, he said it felt good to be done with the city's case against him.
Before his court appearance, he had said he would be willing to pay a small fine and get on with his life.
On Wednesday, Reina said he changed his mind because he realized there was a larger point at stake.
"These people are trying to do something, and it was not fair what they tried to do," he said.
City Attorney Kenny Wohl would not comment on why he filed a motion to dismiss the citation against Reina.
However, on the motion itself, Wohl provided his reasoning by checking a box that states, "The ends of justice would be best served by this amendment."
Reed Morris, a member of Reina's defense team who also practices privately with the Law Offices of Ralph A. Cantafio in Steamboat Springs, said he thinks the city chose to dismiss the criminal case because of the countersuit in District Court.
"That case was filed on Monday, and on Tuesday, we were informed by the city attorney that (the criminal case) would be dismissed," Morris said. "Up until that time, the city's position was to move forward with prosecution."
The city's decision to dismiss its case will not affect the pending civil suit, he added.
"As it stands now, the city still has an unconstitutional law on the books, and it has a City Council that has indicated it would be willing to prosecute someone under this law that is unconstitutional," Morris said. "There is still a need for potential court action, because that law is still on the books."
In the run-up to Wednesday's court proceedings, it was not always clear whether the city would cite Reina for violating the charter.
Wohl stated publicly he would recommend the city forget about the case, but he wanted to speak to the City Council before making a final decision.
It wasn't until May 26, when the council voted, 6-0, for Wohl to prosecute Reina, that the city moved forward with issuing a citation.
Councilors Joe Herod and Jennifer Riley, who both voted in that unanimous decision, said Wednesday that city officials would not comment on Reina's criminal case or the civil suit in District Court.
They said it was an ongoing legal matter.
Reina's case, however, appears "fairly straightforward" to Alan Chen, a law professor at the University of Denver Sturm College of Law.
Chen earned a law degree in 1985 from Stanford University, has published articles on the First Amendment and is a past chair of the Association of American Law Schools Section on Civil Rights.
He also was a staff attorney with the ACLU office in Chicago before becoming a professor.
"This is a very controversial issue, but the law, at least right now, is very clear," Chen said.
The Supreme Court decision in Buckley v. Valeo, a case heard in 1976, states that a person can spend as much of their own money as they wish on a political campaign, and to restrict otherwise would infringe on the right to free speech, Chen said.
"The Supreme Court and other federal courts have been fairly strict in enforcing that against challenges," he added. "Everything I've seen suggests the court is going to be unwilling to overrule that, at least the provision about a person's own expenditures."
Chen said he did not see a way for a lower court, such as one in Moffat County, to rule against Reina in this case, given the language of the city charter.
In his opinion, Chen said he agrees with the high court's ruling that this kind of campaign finance regulation breaches the First Amendment's guaranteed protections.
"Although, I do realize it can be problematic in the contemporary world, where money seems to be an obstacle for some people to run for political office," he said. "But there are other ways to deal with that issue, such as public financing."
No matter what legal opinions are out there, however, Chen said no judge can overrule the Supreme Court's verdict.
"Lower courts are not able to reinterpret the First Amendment in conflict with a Supreme Court ruling," he said. "They are free to say they have to rule a certain way because of the Supreme Court, and that they don't necessarily agree, but the only way to rule differently than the Supreme Court is to say the facts in a case don't apply.
"Again, in this case, the law seems fairly simple, and I don't see how that could happen here."
The city has 18 days to file an answer to Reina's complaint. There is no court date set, and the case has been assigned to Judge Sandra Gardner.
Wohl said an attorney from the Colorado Intergovernmental Risk Sharing Agency most likely will write the city's response.
CIRSA is a government insurance group that represents more than 200 Colorado cities and municipal institutions, which could have to pay for any damages awarded to Reina and his legal team through the civil suit.
Wohl was unsure how the city would go about changing its charter, if the campaign expense provision is declared unconstitutional.
He said it might have to go to a public vote, and if the citizens of Craig vote to keep the provision, he doesn't know what would happen.
The city plans to host an open workshop at 5:30 p.m. Aug. 11 to discuss its charter and any possible changes.
The meeting is open to the public, and Wohl and CIRSA General Counsel Tami Tanoue will provide legal advice.