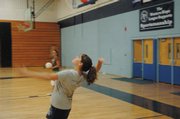 Brianna Montgomery, Moffat County High School girl's varsity volleyball coach knows she is going to have a young team for the upcoming season.
And that's why she's so excited.
"It should be another rebuilding year, but these girls are all so driven," she said. "They have so much heart, and I know they are going to dig in as a team and go a long ways."
The Bulldogs are coming off a 1-9 season.
Montgomery, who is in her fourth year as head coach, said the current crop of players reminds her of a similar squad when she first started.
"When I arrived, I was really fortunate because there were a lot of great athletes on the team," she said. "We're starting to see that again - there are a lot of good, raw athletes this year."
The team began practicing in the gym in preparation for a three-day competition this month at MCHS.
On July 5, the team will travel to Provo, Utah, for a week-long team camp in which the varsity, junior varsity and freshmen teams will play almost constantly.
"By the end of the week, they'll start finding their groove," Montgomery said. "They have a lot of drive, and I know they'll pull through."
Montgomery said the camp also allows her to gauge her team through workouts, camping and playing.
"I'll get a feel for who falls in where, and how all the girls mesh together," she said. "The girls will all be together, they'll be tired - it really will show me where they are as a team."
Although the final roster hasn't been set, Montgomery said she has a vague idea of what the team will look like.
"It changes, though - one girl might advance more than you expected her to," she said. "Some girls just grow faster than others."
One thing she is sure of, however, is that her team will be younger than last year's installment.
"They are young, and they are inexperienced," she said. "But they have the potential to be really good."
As an incoming freshman, Jessica Behrman, 14, is one of those younger players.
"It will be fun," Behrman said. "It's definitely going to be more intense.
"I've never played against high school girls before. It should be exciting."
Montgomery said she would rely on her seniors to mentor the younger players throughout the camps and the season.
Jordan Maneotis, 17, is one of those seniors.
"I'm really excited to see where we are as a team," she said. "I can't wait for us to mesh and start league play and, hopefully, go all the way."