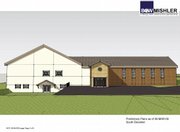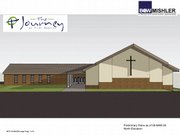 By the numbers
Projected updates at The Journey at First Baptist
• 7,500 square feet
• $2 million
• 485 seats in the sanctuary
• Expected to be completed in April 2010
Projected updates at New Creation Church
• 6,000 square feet
• $1.2 million
• 232 seats in the sanctuary
• Expected to be completed in October 2009
The Journey at First Baptist church has seen a lot of homes.
From a humble log cabin, to a boxcar in town, to its current building at 1150 W. Ninth St., there have been a lot of changes.
Starting this month, the congregation hopes they've found something a little more permanent.
Church officials are building a 7,500-square-foot addition to their church, and Pastor Len Browning said he expects the project to be completed in April 2010.
"It's called an addition, even though it will be larger than our current facility," Browning said.
The current building is 5,000 square feet and has become tighter and tighter as the ministry has grown, Browning said.
"We're currently crowded in our primary ministry during most Sunday morning functions," he said.
Browning said there are 150 active members of the church, and more than 300 people are in attendance most Sundays.
"It's been consistent growth for three years, and we want to be able to utilize space and not spend money, but we're at a point where have to do it.
"We're trying to do it in such a way that it won't affect our giving to the community."
The new addition will include a larger sanctuary and increased access to the church through a new ground-level entrance and elevator.
"It's primarily a new sanctuary," Browning said. "The old sanctuary will be converted into the children's ministry."
The new church comes with a price tag of $2 million, which Browning said is a familiar bottom line for the church.
"It's all comparative - when this building was built in 1974, it cost $125,000," he said. "The little house on School Street (where the church was once located) cost $500 in 1924. Both of those figures equate to $1.5 to $2 million in today's dollars."
Mishler Construction is the general contractor for the project, and Building God's Way is the architect. Local companies will handle the subcontract work.
The Journey at First Baptist isn't the only church experiencing rapid growth.
Since opening its doors in June 2001, New Creation Church has grown from four members to 150.
Pastor Jason Haskell said that since he and his wife, Tracey, started the ministry, they've outgrown their current home in the Centennial Mall, 1111 Victory Way.
"We've been renting up until now," he said. "But it's time to put some roots down."
Those roots will be planted at 520 Westridge Road, where the construction of a 6,000-square-foot church has started.
Haskell said the new building would be 50 feet wide and 120 feet long and would contain 232 seats in the sanctuary.
"They're moving dirt right now," he said. "In mid-June, they will pour the foundation."
The project is scheduled to be completed in October.
The $1.2-million church will include classrooms, a new larger sanctuary and a kitchen.
"It's pretty simple," Haskell said. "We're just excited to be in a position of ownership."
Noah Construction, out of Raleigh, N.C., is the general contractor for the project.
"They specialize in building churches," Haskell said. "All of the other contractor work - the framing, electrical and mechanical - is being bid out to local contractors."