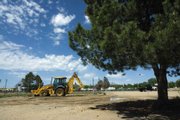 At a glance
• Development on the same site as the former Country Mall
• Behrman Plaza would entail 16,792 square feet
• It would include eight office/retail spaces, ranging in size from 1,800 square feet to 3,200 square feet
• Construction would take six to eight months to complete
• Project cost is an estimated $1.9 to $2 million
An empty lot at 365 Ranney St., a location once home to a building that housed several businesses and offices, could again be an office/retail location.
Plans for the lot, the site of the former Country Mall, call for the development of Behrman Plaza, a proposed 16,792-square-foot building that would include eight spaces for offices or retail businesses.
Those spaces would range from 1,800 to 3,200 square feet.
The project is a venture by V.W. "Lop" Behrman, a long-time area commercial and residential builder.
It is expected to cost $1.9 to $2 million.
"It's going to be a nice-looking building," Behrman said. "It's going to be an all masonry building, all brick.
"Our plan is to pretty much do what we had before, some office space, or retail, either one."
The Country Mall was destroyed by a fire in November 2007. Investigators later ruled the fire's cause as arson. Craig Police Department officers said the case remains an open investigation.
Behrman owned the mall with local businessman Marvin "Red" Cortner.
However, Behrman is pursuing the plaza project on his own; he said he bought Cortner out earlier this year.
Construction on Behrman Plaza has not yet started. The developer said he is waiting on plan approval from the city.
"We wanted to start in June, but they set us back on the Planning Commission meeting," he said. "It could be two more months before we even get to go in."
It is vitally important, Behrman said, for his company to begin work on the plaza.
"I've got seven guys working for me, and in this economy, there's not a lot of work out there," he said. "If I don't get this going, I've got to lay guys off.
"We've already got our plans almost done. If (the city) would issue me a building permit, we could get started. But, until we go through all the loops the city wants, it's not looking good."
Behrman is under a deadline to get the mall project started and finished. He said one of the provisions for receiving the full insurance payout for the Country Mall was rebuilding on site within three years.
"It has to be within three years," Behrman said, "and 1 1/2 years have already gone by."
Construction is anticipated to take six to eight months to complete.
Behrman Construction was the developer behind the new Mountain West Insurance building, 100 E. Victory Way, several homes within the Pine Ridge Subdivision, and also finished masonry work on numerous area homes and businesses.
Behrman said he's hoping to be finished with his latest commercial endeavor early next year.
"We've got to start something this summer, move to a new location," he said. "I can't wait. If we don't get this started, we're going to be right in the middle of winter trying to build it, and you know what it's like trying to build in the winter time."
As of now, no tenants have committed to locating to the plaza, Behrman said.
Joshua Roberts can be reached at 875-1791, or jroberts@craigdailypress.com.