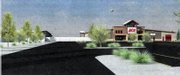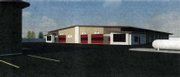 No matter how big it gets, MJK Sales and Hardware always will be a local store.
Even after spring next year, when the owners plan to open a new 35,000-square-foot hardware store, along with a new 37,000-square-foot drive-thru feed and lumber warehouse, on First Street near Colo. Highway 13.
Even then, Lonnie and Lorraine Kawcak said MJK will be a local store for residents.
"There's a need in Craig for this type of business," said Lonnie, 57, who owns MJK along with his wife, Lorraine, and their two sons, Blaine and Blake. "If we don't build it, somebody else will. I guess we just kind of feel we might take that step first."
No one can keep a big box store out of Craig, he added, so there's no use trying to beat out Home Depot or Lowe's Home Improvement.
That doesn't mean a local business shouldn't expand to meet the needs of its customers, though.
The Kawcaks plan to develop the new site like their current business on Ranney Street - one store for hardware, house wares and miscellaneous goods, and another for livestock feed and agricultural equipment.
Other places sell everything out of one building, Lorraine said. MJK is more of a market square.
"We feel like this has been very successful, so we try to make it where we pick this up here," she said, motioning to the existing store and grain elevator, "and move it over there. We don't want to be another Country General. People come here, and they visit back and forth and socialize outside."
The construction project is expected to begin in the near future.
City officials have approved all project plans, and the Kawcaks now are waiting to hire builders and get permits.
Building a new MJK will be the latest chapter in the Kawcak family history, a timeline that starts with humble aspirations and ends with the second-largest retail construction project in Moffat County's history, next to Wal-Mart.
Lonnie's parents, Mike and Colleen Kawcak, opened the business in 1976 in a small warehouse on School Street.
At that time, MJK, named for Lonnie's father, sold only grain, feed and some farming equipment.
The store moved to its current location and expanded into hardware soon after it first opened, during the industrial boom of the late 1970s and early 1980s.
Those were good days for business, but they ended suddenly and without any signs of recovery as the region dove into a prolonged recession that lasted until the early 2000s.
Now, as MJK stares down the barrel of becoming a fully-fledged superstore, Lonnie looks back on those early days, with his arms crossed, and smiles.
"I never thought it would get this big," he said. "Back then (during the first expansion), I looked at it like there was a lot of potential for growth. Then, everything kind of stopped all of a sudden, and I didn't know if we would ever come back to where we were then."
It wasn't easy, Lonnie said.
"We've done a lot to get where we are now," he said. "It's something you've got to work for. It's not given to you."
Although Lonnie has seen the depths of Moffat County's boom and bust cycles, he said he is not panicked by the economy's current downward slide. In fact, the business plans to add a full-scale lumber supply arm.
"We feel like it's definitely going to get better," he said. "When it does, we'll be there. There's really not a better time to build than now. The cost of labor is down, the cost of building materials is down, interest rates are down. There are plenty of people looking for work, too, people who are good at what they do."
But it's also a simple process, if difficult to realize, for a business to stay important to its customers through good times and bad, Lorraine added.
"We really stress customer service and friendliness," she said. "Customer service is our No. 1 goal. And we make sure we have the products people want. If we don't have it, we'll get it."
Those philosophies will remain in place, as will the business' family roots.
Lonnie's father still stops by the store from time to time to reminisce and catch up with the employees.
Lonnie and Lorraine don't plan on going anywhere anytime soon, and their two sons have shown some interest in taking over the business.
"We hope they follow in our footprints, but if they don't, we hope they let us know," Lonnie said, laughing. "Truthfully, that's not as important as them doing what they want to do, though."
In the meantime, before Blake and Blaine decide whether they want to keep the family business in the Kawcak family, the boys are working with Lonnie's father to prepare the new building site for construction.
"This has been kind of a family project," Lorraine. "I am proud of that."