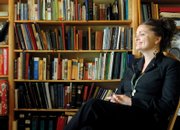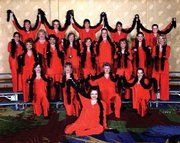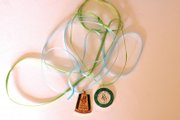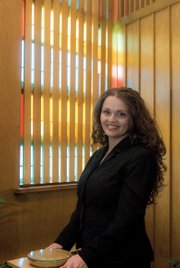 For more
For more information about the Sweet Adelines International Yampa Valley Chorus and how to join, call Emily Pfeifer at 824-6715 or Jeana Womble at 824-6472.
Emily Pfeifer and her husband, Jon, don't have a TV or an Internet connection at their house.
Instead, in their family room is an electric keyboard.
It is placed in a corner across from an assortment of places to sit, in a spot many households would put a TV, so everyone in the room could stare at it without interruption.
Pfeifer, a 30-year-old mother of two boys, said her family life is better without the modern entrapments that cable and the World Wide Web bring into a home.
She prefers to do things with people, and she is obsessed with music.
Her family always has been.
"We sang around the piano when I was young : and it seemed we were always involved in some performance coming up," she said. "And it was always part of some greater mission. It was about uplifting the audience, helping people be involved in something beautiful, create something beautiful, uplifting people with God."
Before moving to Craig so her husband could take a job with the 14th Judicial District Attorney's Office, Pfeifer made music her life's work.
She has an undergraduate degree in vocal performance from Brigham Young University and a master's in choral conducting from Butler University.
She worked hard to have a shot at becoming a professional orchestral conductor. Music so grips Pfeifer's mind, she cannot ever put it aside.
"I have insomnia, and my mind creates shows and plans rehearsals at night, without me even wanting it to," she said. "It's in my blood, and I don't think that's ever going to go away."
It was only a few weeks after she moved here with her husband that Pfeifer was approached to be artistic director for the Sweet Adelines International Yampa Valley Chorus.
"God robbed her from the heavens for us," said Debra Mack, 56, secretary, costumes director and a lead singer for the group. "She has done so much in such a short time, it's pretty remarkable."
The local Sweet Adelines chorus recently did the best it has ever done at an official competition last month at Rocky Mountain Magic. The group took first place small chorus for the second time in three years and placed fifth overall for the first time.
Pfeifer said the fact that Craig's 19-person chorus was able to compete so well against larger groups of 50-plus women shows the "incredible, incredible, just incredible" level of local talent.
"It's very hard for smaller choirs to compete with larger ones," she said. "The fewer people, the more individual responsibility there is on each member, the more perfect they have to be. The emotion has to be unified 100 percent of the time. The intonation has to be perfect 100 percent of the time. You have to be a machine, a well-oiled singing machine."
That includes Pfeifer, too.
Sweet Adelines is a barbershop group, which is different from anything in her formal studies.
"I came from a background where my professor literally had me stand against the wall and practice not moving while I conducted," Pfeifer said. "With Sweet Adelines, the director is really part of the spectacle.
"Sweet Adelines is like this glittery, estrogeny sparkling universe of sequins. Thankfully, being a singer, I can turn the diva on and off."
Local Sweet Adelines members said it was good to see Pfeifer's enthusiasm at competition, especially when Pfeifer ended a performance by doing the splits, just a few months after giving birth to her youngest son, Lincoln.
"I have to say, we found out very quickly that despite her learning, Emily has always been a Sweet Adeline at heart," said Jeana Womble, 34, the group's team leader and a baritone in the chorus.
Many of the women in the local Sweet Adelines chapter seem as devoted to music as Pfeifer, they and also fell into Sweet Adelines in similarly unplanned ways. It seems musicians always find music to play.
"It fills a niche that other things don't," said Deb Dunaway, 51, mother of the group's youngest member, 12-year-old Holly. "It takes at least four of us to create this music, you can't do it by yourself."
Many of the women, not just Pfeifer, came from different musical backgrounds. Barbershop is the most challenging musical work they've done, members said, but also some of the most rewarding.
"I've played in country and classic rock bands for the last 20 years," Dunaway said. "I thought I knew how to sing until I started singing barbershop. But, that's some of the fun, too. We're constantly pushing ourselves, pushing each other to be better all the time."
Which is exactly what Pfeifer wants from her career, and why she is happy to direct a 19-person barbershop group.
"It's been very humbling for me, this Sweet Adelines deal," Pfeifer said. "Very quickly I realized I knew nothing about barbershop music. These women are serious. I like that environment. Even though barbershop wasn't necessarily my passion, I love the environment where everybody strives to do their best."
Although she is not conducting a grand orchestra, she is having fun, learning and getting better.
She has time to raise her children and show them how to sing along to the keyboard in their family room, and she doesn't plan on going anywhere anytime soon.