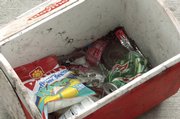 A red cooler filled with an empty soda can, tools, spoons and an open bag of sunflower seeds stopped all activity at the Moffat County Courthouse for more than five hours Monday afternoon.
The episode began about 1 p.m. Monday, when local law enforcement responded to calls from courthouse security about a suspicious package - the red cooler - outside the building's southwestern entrance.
The threat of a bomb lasted until about 6:30 p.m., when the Grand Junction Police Department Bomb Squad determined the cooler did not contain an explosive.
After learning there was no threat, officials said it's a shame that today's law enforcement and emergency service workers have to waste time on incidents like Monday's.
The contents of the box, officials said, was irrelevant.
"The worst part about it, it's no more than a sign of our times," said Mike Anthony, a deputy with the Moffat County Sheriff's Office.
Sheriff Tim Jantz said people should have more common sense than to leave objects outside government buildings.
"That was idiotic for someone to leave their lunchbox outside a door at the courthouse like that, especially on a day when a murder trial was supposed to start," said Jantz, referring to the original start date for Terry Hankins' trial, which was continued until Aug. 10.
"In this day and age, nothing can be taken for granted. Just like in airports, people are told not to leave their belongings laying around."
He added that he is proud of the work done by everyone involved in the scare, and he wouldn't ask them to do anything different if it happened again, even though it was a false alarm.
"I've already been approached by two people asking if this was all too much, if it was ridiculous," said Jantz, shortly after the bomb squad opened the cooler. "I don't think people's safety is ridiculous. What's the risk if something had been inside that box? What's someone's life worth?"
Sheriff's Office and Craig Police Department officials maintained a 200- to 300-foot perimeter around the cooler until the Grand Junction Bomb Squad arrived on scene that evening.
Local officials closed portions of Barclay and School streets near the courthouse all afternoon, and they also closed Victory Way for about 20 minutes while the bomb squad investigated the cooler.
All in all, Jantz said the combined operation took himself, two other Sheriff's Office units, two courthouse security personnel, five Police Department officers, Craig Police Chief Walt Vanatta, a Craig Fire/Rescue truck, Craig Fire Chief Bill Johnston, an ambulance crew from The Memorial Hospital, Moffat County Emergency Management Coordinator Tom Soos and three Grand Junction bomb technicians.
The Grand Junction Police Department and local law enforcement have a mutual aid agreement, so Jantz said neither the county nor city should have to pay for their services.
Sgt. Stan Ancell, of the Grand Junction bomb squad, was the man who X-rayed the box and then opened it for everyone to see.
Although it turned out safe, he couldn't help but be a little nervous as he first approached the cooler.
"I think you'd be foolish not to be," Ancell said.
The courthouse was not the only building closed for the afternoon. Sheriff's Office and Police Department officials used the nearby Lube Plus parking lot as a base of operations during the episode.
They said it was a safe distance from the cooler and also offered a clear line of sight.
Mickey Green, who owns Lube Plus, said his business probably lost about $1,000 from being closed.
"But it upsets me more that I had to send my five employees home," Green said. "With their families and everything, that money's important."
County offices and Lube Plus will open at the normal times today and expect to return to business as usual.