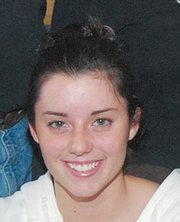 Craig — Caitlin Conci, first-year Craig Sea Sharks head coach, knows the first swim meet of the year can result in a different kind of butterfly other than the stroke.
Because she's having a few herself.
"I'm a little nervous," she said. "But, everything will be OK."
Today, Conci, 19, will travel to Glenwood Springs with 17 Sea Sharks for her first meet as head coach of the swim team.
The three-day meet will feature swimmers ranging in age from 7 to 18 years old.
Conci, who currently swims for the University of North Dakota, said the first meet of the year is still nerve wracking, even after 11 years of swimming.
"The first meet is always a little weird and kind of hard," she said. "So, they just need to get the first meet out of the way and get excited for the next one."
Even with the nerves, Conci said she expects her team to perform well.
"I'm hoping everybody will get best times, if they have times," Conci said. "There are a lot of kids who have no times, who've never swam a race before, so I just want everybody to go out and experience the first meet of the season."
As for her coaching methods, Conci said she has simply taken what has worked for her.
"I'm going to try and remember what my coaches would do for me, and I'll do for my swimmers," she said. "Mostly, that will be encouraging my swimmers."
Conci, a 2008 Moffat County High School graduate, said practicing with her team was a little stressful at first, but she has started picking out her routine and workouts.
"Writing the workouts has been the hardest for me, but I just use what I think would be the best for them each day," she said. "I try to remember what worked for me - what I liked and didn't like."
For Conci, who was 8 years old when she joined the Sea Sharks, it's been an odd experience coaching swimmers who are nearly the same age as she is.
"It's a little weird - there are two girls who are 18, and I grew up swimming with them," she said. "As far as the rest of kids, they haven't said a whole lot, but I feel like everything is going OK."
Chris Kling, 12, said he ranks Conci up with his other coach, Marin Campbell - Conci's former coach.
"It's fun because she gives us all a really good workout," Kling said. "The workouts aren't too hard."
Kling said having a younger coach has other benefits.
"It's a really good thing she's younger," he said. "She really responds to us."
Making the change from scholarship-athlete to Sea Sharks has taken Conci little time.
"It's all swimming, but it's a whole different perspective - going from the athlete to the coach," she said.
Liane Davis-Kling, whose son is Chris, said it's Conci's experience as a swimmer that makes her special.
"I think she's doing wonderful," Davis-Kling said. "She's got a lot of experience under her belt - she's a state champion, she swam in the summer club and now she's swimming in college."
Conci has advice for the young Sea Sharks only a swimmer would know, Davis-Kling said.
"The techniques she's using with the kids are really good," Davis-Kling said. "A lot of those techniques she picked up from Marin Campbell and from her year up in North Dakota."
Being a coach has its benefits, however.
"(Coaching) helps me to think about how I swim and the things I can improve on," she said. "When I'm watching the swimmers and helping them with their technique, it makes me think about my technique."
Conci said her approach to coaching is more laid back, but she still expects the most from her swimmers.
"During practice, I want them to be serious," she said. "But, afterwards I joke around with them : have more fun."
During the meet in Glenwood Springs, the Sea Sharks will swim the "500 free to the 50 free, and every stroke in between," Conci said.
Just going out and swimming is the best way to battle the butterflies, Conci said.
"By the middle of the season, even by the second meet, they'll know what to do and go out and do it," Conci said. "I want to get my swimmers to be comfortable, and not be nervous and to just have fun - that's when you swim your best."