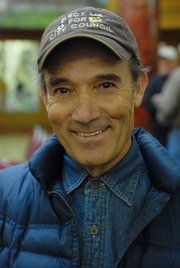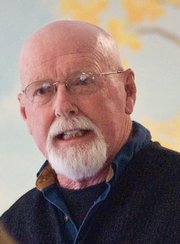 If you go
What: City charter workshop
When: 5:30 p.m. Aug. 11
Where: Craig City Hall, 300 W. Fourth St.
• The workshop is open to the public. City Attorney Kenny Wohl and Tami Tanoue, Colorado Intergovernmental Risk Sharing Agency general counsel, plan to provide input to city officials.
Craig — Craig City Attorney Kenny Wohl said he does not plan to cite City Councilor Terry Carwile, who may have violated the city charter by not filing a complete campaign expense report after the April election.
"No," Wohl said. "This is so ridiculous."
According to the city charter, every candidate must turn in "an itemized statement showing in detail all amounts of money contributed or expended by him" within 30 days of a municipal election.
Carwile, who was elected to his second term as councilor two months ago, originally turned in a form created by the Colorado Secretary of State's office that declared his total expenditures of $363.34.
The form does not, however, list how or where Carwile spent his money.
Carwile did submit copies of his receipts to City Clerk Shirley Seely about 16 days after the deadline specified in the charter. He was the only one of seven candidates who did not submit expense receipts with his or her original report.
Wohl said Carwile did nothing more criminal than many Americans who file amended tax returns each year after April 15.
There is no financial or criminal penalty for amending a tax return, Wohl said, unless a person already violated a different requirement under the tax code.
For instance, he said someone who did not pay all of his or her taxes by April 15 would have to pay a penalty for not paying on time, but the act of amending a return does not make a person guilty of anything.
Carwile's initial report was on time and accurate, Wohl added, and the councilor did not violate any other campaign spending provisions.
"He didn't violate the charter," Wohl said. "He submitted an amended report, and that's fine. They (the initial report) were not complete, but they were accurate. It would be unreasonable to prosecute an individual under that set of facts."
Carwile said he thought he followed all of the law's requirements.
"The report was sufficient, and if it's necessary to amend those, you can," he said.
Carwile is not the only former council candidate who may have violated the terms of the charter.
Craig resident Francisco Reina was cited with a Class A municipal violation after he declared he spent more of his own money on his campaign than the $500 limit allowed by the charter.
Reina faces possible penalties of as much as a $1,000 fine and as many as 180 days in jail and is scheduled to appear in municipal court at 9:30 a.m. Wednesday.
Carwile voted in favor of the council's recommendation to prosecute Reina at the city's May 26 meeting.
But, he said he was hesitant to do so, particularly after Wohl said he was inclined to not charge Reina.
"We talked about the separation of powers : and there's a line there that it's difficult to say when council should not be a participant," Carwile said. "The city attorney stated very clearly that Francisco violated the charter. For me : it's a little different situation. I turned in the report on time, and if I need to amend it, I'll do so."
Some councilors are not as sure about the issues involving their colleague.
Councilor Byron Willems said he wants to know more about what Carwile may or may not have done.
"I really thought it would be on council's agenda (June 9), and it wasn't," Willems said. "I think this needs to be brought before council so we can discuss it. A violation is a violation, right? We kind of made that stance, didn't we? It hasn't come in front of us yet, and if it did, I would say, 'A violation is a violation.'"
He added that the rest of the council was unaware Carwile might have violated the charter when it voted to recommend Reina's prosecution. He would be interested to hear Wohl explain why Carwile's situation is different from that case.
Other members of the council had different perspectives.
Councilor Joe Herod said he couldn't comment because he thought Carwile's situation is a personnel matter, and Mayor Don Jones was out of town and couldn't be reached.
Councilor Jennifer Riley, who won her first term in the April election, said she thinks Carwile should have turned in an itemized list of his expenses but sees a clear distinction between his case and Reina's.
"I think Terry should have submitted his receipts when he submitted that report," Riley said. "But the interpretation for Terry's violation comes into play because it's up to your interpretation of what is an itemized statement. It's not as cut and dry as $500 is $500."
Because of that distinction, Riley said she would be inclined to support Wohl's recommendation, but she doesn't know all the facts.
Councilor Gene Bilodeau also said he would probably side with Wohl's recommendation because "that's what we pay him to do."
Bilodeau was the only council member absent when it voted to prosecute Reina, despite Wohl's recommendation to let him go.
"I'd be very curious to hear more about why council made that decision, not to say that it's right or wrong, but to hear what other information there was to make them feel that way," Bilodeau said.
Councilor Ray Beck, who served with Carwile during his first term, said he trusted his colleague to come out and say if he had done something wrong.
"It's a pretty hard position to put fellow council members in," Beck said. "I'm not saying I'm part of the good ol' boy's club. Terry's been a very vital part of this council. I don't think it's up to myself to" say he's done something wrong.
Wohl said the council has scheduled a workshop at 5:30 p.m. Aug. 11 with him and Tami Tanoue, general counsel for Colorado Intergovernmental Risk Sharing Agency, about the city charter, the campaign spending provision and possible changes to either.