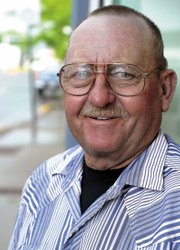 Craig — The VA recently awarded $5.2 million for Minnesota veterans' homes.
The grants will pay as many as 65 percent of the cost for improvements at the two facilities located in Minneapolis and Silver Bay.
Last year, the VA spent about $1.5 billion in Minnesota on behalf of the state's 400,000 veterans.
VA operates major medical centers in Minneapolis and St. Cloud, eight outpatient clinics, Vet Centers in Duluth and St. Paul, and the Ft. Snelling National Cemetery in Minneapolis.
World War I memorial causes controversy
In 1934, World War I veterans erected a simple memorial in the shape of a cross to honor 53,000 Americans who died in battle.
This year, the U.S. Supreme Court will determine whether the cross violates the U.S. Constitution's separation of church and state. This is because the memorial resides on federal property in California's Mojave National Preserve.
More is at stake, however, than just the fate of a seven-foot tall white cross currently covered with a plywood box by a court order. The real issue behind Salazar v. Buono is whether the use of religious symbolism in veterans' memorials on public property violates the Establishment Clause.
If the high court rules in favor of the plaintiff, every such memorial across the land could be torn down.
Donations accepted for Adams memorial
Donations are being accepted at Yampa Valley Bank for the William E. Adams memorial. Donations need to be under the name VFW Post 4265.
This month's historical veteran/national dates
Please keep in your memories the following important dates:
• June 14: Flag Day
• June 14, 1775: U.S. Army established
Craig Telehealth Clinic offers extensive care
The Craig Community Telehealth Clinic offers U.S. veterans state-of-the-art technology, as well as onsite nursing support and remote practitioner availability. Our goal is to provide an extensive array of health care services to our veterans in a setting that is accessible and professional. In order to appropriately plan and coordinate your visit, access to the clinic is by appointment only. The clinic cannot handle emergency needs. Flu shot walk-ins are ongoing for Vets currently enrolled in the VAMC Healthcare system. Call 824-6721 with questions.
Tele-psych services now are available
Veterans can now get tele-pysch services at the Craig VA Telehealth clinic. All they need to do is call 970-263-2824 to set up a follow-up appointment for their mental health visit to be done there. If there are any questions, contact Jayne Scribner at VAMC Grand Junction via phone or e-mail. Her e-mail address is Jayne.Scribner@va.gov
For information on these programs and/or other veterans' benefits, call or stop in the Moffat County VSO office at 480 Barclay St. (west of the Bank of Colorado parking lot). Call 924-3246 or fax 824-7108. Our e-mail address is veterans@moffatcounty.net. The office is open from 8:30 a.m. to 12:30 p.m. Monday through Thursday. Other times can be arranged by appointment only. Bring a copy of your separation papers (DD-214) for application for VA programs and for filing at our office.