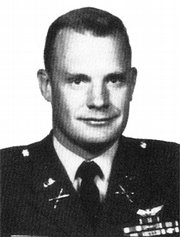 How to help
A community fund has been opened at Yampa Valley Bank, 435 Mack Lane, for donations for a proposed Maj. William E. Adams memorial.
Checks should be made payable to Veterans of Foreign Wars Post 4265.
Craig — Maj. William E. Adams will not have an elementary school named after him, but the Moffat County School Board is looking at other options to recognize the late Medal of Honor recipient.
At tonight's school board meeting, an idea will be presented regarding the proposed renaming of Breeze Park, on the 600 block of Breeze Street, after Adams, said Pete Bergmann, Moffat County School District superintendent.
When the School District was in the process of renaming its reorganized elementary school, many veterans and residents proposed that it be named in honor of Adams.
The School Board, however, decided to respect the process it had already established, which allowed elementary school students to vote on the name.
Adams' name came in third in the voting, losing to eventual winner Sandrock Elementary.
"There was a lot of discussion over what was the right thing to do because we wanted to honor the process and honor the vote of students," he said. "I know there is still a strong sentiment by a big portion of the community that we should recognize (Adams). I think the board agrees with that."
Adams, a U.S. Army helicopter pilot, was posthumously awarded the Medal of Honor. He was killed in May 1971 while attempting to evacuate wounded soldiers from a hostile area in Vietnam.
The School Board chose not to circumvent the process or undermine the vote of the students, Bergmann said.
Instead, Breeze Park, which Bergmann said was never officially named, is being offered up for renaming in honor of Adams.
"It's an opportunity for the School Board to demonstrate that they still can recognize William Adams for his heroism and his efforts for our country," Bergmann said.
Breeze Park is not the only option for supporters of an Adams memorial.
Larry Neu, a member of Veterans of Foreign Wars Post 4265 who has spearheaded the effort to recognize Adams, said that when the school name did not pan out, it motivated him to do something bigger and better.
"It is too little too late, and we're off on another track," he said about the School Board's potential offer of renaming the park.
Neu said he is hoping to create a veterans memorial with Adams as the centerpiece.
He said he already has received offers from two local businessmen offering downtown property for a memorial.
"We're working toward a life-size bronze sculpture of major Adams," he said. "And we're trying to appropriate a decommissioned helicopter from the government."
Bergmann said he anticipates the School Board will want to move forward with the park offer, however, and thinks the entire community agrees on the necessity of recognizing the local war hero.
"The common goal has already been established in the community," Bergmann said. "Recognition is long overdue, and everyone in the community is looking for the best way to recognize him and this is another option to consider."
Neu also said there is a strong sense of unity and support in the Adams matter.
"I fielded phone calls all weekend - from as far as Wyoming - from people upset about what the school had done and pledging their support with whatever project we would do," he said. "We've had a tremendous pledge of support from the community. I've already got sculptors calling me, and we haven't even gotten near that point yet."
However Adams is honored, Neu said the fact that Adams has gone 38 years without recognition needs to be rectified.
"It's not for him as much as for his family and people in the community who need something visual to remind us why we enjoy the things we do," he said. "To show us that there are people that make these sacrifices so we can enjoy this way of life."