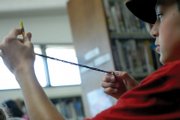 If you go
2009 Moffat County Libraries Summer Reading Program:
Adult, junior and youth programs
• Express Yourself Youth Club for children ages 8 to 18 meets from 2 to 3 p.m. Wednesdays at the Craig Library
• Story-time for all ages, meets at 11 a.m. Thursdays at the Moffat County Fairgrounds
For more information, call Moffat County Libraries at 824-5116
When Christy Gonzales was growing up in Craig, the Summer Reading Program made a lasting impression on her.
"I still remember one of the librarians reading a story about a little blue man," she said. "She had flaming red hair, and we were all crowding into that little room at the library."
Now the Moffat County Libraries program coordinator, Gonzales wants to share her love of reading and the value of staying engaged in the arts through the summer months.
Moffat County Libraries is offering the Summer Reading Program and two weekly events - a youth club and story-time - to engage people of all ages in reading and self-expression.
Reading Program
Between outdoor sports, camping trips and plenty of cartoon watching, it's often hard to keep youths reading during the summer.
The Summer Reading Program allows them to log reading time whether they read a magazine on the way to Disney World or devour a book in their tent at night.
The program allows youths to keep track of what they read and participate in weekly written activities they can complete at the library or take with them.
The Craig branch of the library also offers an adult program, allowing readers to submit an entry for their choice of prize for each book they read. Drawings take place at the end of each month.
"Adults have the chance to set an example for their kids and pass on the love of reading," Gonzalez said. "They can be positive role models."
Express Yourself
Moffat County Libraries is offering a weekly workshop, the Express Yourself Youth Club, which combines arts, crafts and other creative forms of expression.
"We were able to collaborate with many people so we can really show (the kids) how different people in our community express themselves through books and a broad range of arts," Gonzales said.
She said the library contacted middle school teachers, professors and local artists to help direct the weekly events, which will feature themes such as rubber band bracelets, marbleized paper and gourd painting.
"Any fun things that would really spark the kids' interest," she said. "We call them boredom busters."
The first week of the Youth Club was called "creative story telling," and drew more than 30 participants.
On Wednesday, the club was moved inside because of weather, but almost 20 youths enjoyed making rubber band bracelets, rings and decorations.
Not only did the participants learn from Gonzales how to put the bracelets together, many of them took it upon themselves to teach one another tricks and tips, each of them finishing with several colorful pieces of jewelry.
The club meets from 2 to 3 p.m. every Wednesday and is open to children ages 8 to 18.
Story-time
Every Thursday, the joys of reading will be shared with the entire community at story-time at the Moffat County Fairgrounds covered picnic area.
The event offers stories, skits and songs with presentations throughout the summer by the 4-H Extension Office and Craig Fire/Rescue, among others.
Gonzales said she was thrilled that 100 people turned out for the first week of summer story time.
"Books have always been a huge part of my life, and I just want to keep that interest going," she said. "Books can take you everywhere, and I just want to share that with them."