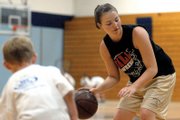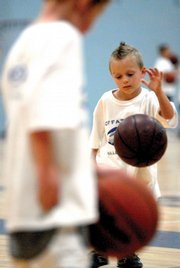 Craig — When Moffat County High School junior Dylon Camilletti stood Wednesday underneath the basketball hoop in the high school gym, there was silence.
"Do you want to stop?" he yelled out.
In unison, 68 voices yelled back at him.
"No, we want some more."
Such is life for the Bulldogs in training.
Summer basketball camp, which opened Tuesday and runs through today, teaches kindergarten through eighth-grade students the fundamentals of the game.
At the helm is a familiar face in Steve Maneotis, MCHS boys varsity basketball coach. Several high school players are working as assistant coaches.
"We're going through the basics," Maneotis said. "The individual and team fundamentals, passing, picking, defense and ball-handling.
"And, we're having a lot of fun doing it."
The campers, both boys and girls, are divided among their age groups. While older players have a more grueling workout, the message is the same for all campers.
"You have to learn the fundamentals first," Maneotis said. "Everyone works on everything from their stance to blocking shots."
Defense is given a special priority during the camp.
"We want them to know what to expect and what we want from them," Maneotis said. "This way, they get used to the system."
Camilletti is no stranger to the camp, having attended it when he was younger.
"It helped me a lot," he said. "We always looked up to the high school kids who ran the camp - we went to all the games and saw the same players and wanted to learn from them."
Camilletti said he still is learning at the camp but from a different angle.
"It's different - you can see everything from a different perspective," he said. "I want to help kids get better so that when they get to high school they'll want to play."
Camilletti, a guard, said he needs to work on his ball handling and shooting skills before the season starts and that helping younger players helps him with his own game.
"I think it does," he said. "You can see what everyone else is doing, and you can correct yourself."
Maneotis said Camilletti is one of several players returning to the team this year who are being counted on to contribute.
"This is going to be a young team," he said. "We graduated five starters, but this year is going to be exciting."
Maneotis said a return from some of his underclassmen would propel the team.
"There's going to be a nice mix," he said. "We're not going to be as big as we were last year, so we'll have a different kind of look."
During the camp Maneotis patrolled the sidelines, helping young players with their footwork.
"They'll take it to different levels," he said. "They'll work on dribbling with their right hand and then with their left."
With every drill, Maneotis said he sees the improvement.
"It's good for them - they get to work on their basic skills and get better," he said. "That's why we call it 'Bulldogs in training.' This is just the first step."