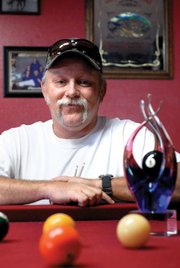 Team roster
Team Talk To Da Ballz
Christy Abney
Sabino Corral
Joyce Hoekstra
Mike Pelham
Tina Pelham
Joe Skufca
Julie Skufca
Rudy Skufca
Craig — For the Skufca family, billiards is best played together.
Especially when they are playing together on the same team.
Joe Skufca, 48, of Hayden, and his daughter, Julie, will travel to Las Vegas for the National Team Championships in pool after their team, Talk To Da Ballz, secured the Yampa Valley American Poolplayer Association League trophy.
The team defeated 12 other teams during a weekend tournament at the Popular Bar in Craig, and for Joe Skufca, it will be his fourth trip to Las Vegas after winning the trophy.
"There was some tough competition," he said. "There's always some tough competition."
Joe and seven other team members will compete against more than 250 teams from the United States, Canada and Japan in the 8-ball division.
In 2005, Skufca came a few shots away from glory.
"I was one game out of the money game," he said. "I had won eight games and lost two - that was the closest I've been."
Last year, Joe made it to the Yampa Valley finals before being sunk by a team from Craig.
To be successful, he said, several balls have to roll his way.
"There are always some lucky breaks," he said. "But it depends more on the skill of the players."
Joe has been honing those skills for some time.
When Joe was 12 years old, his family bought a nine-foot table.
And he hasn't stopped playing since.
After playing recreationally for years, Joe started playing competitively in 1999, after some friends urged him to try it.
"I love the game," he said. "I love to be around it. I have lots of pool friends who play in Craig and Steamboat. I love the camaraderie."
The worst part of playing competitively is when things don't always go right, Skufca said.
"Sometimes, there's some bad sportsmanship," he said. "It can get too competitive sometimes - it just boils over. And I'm guilty of that, too."
Sometimes the game elicits a different emotion.
After her team won Sunday, it was a special event for Julie Skufca, who will be making her first trip to Las Vegas.
"I was crying - I was overjoyed and excited," she said. "It's my first time ever going to Las Vegas - now I just need to find a babysitter."
Having so many players who haven't been to the championships has made this year special, Joe said.
"We have three players who've never been, and they're excited," he said. "I think we're probably stronger than we've been before. I'm just really hoping we place in the money."
For now, the Skufcas will practice three nights a week at the Veterans of Foreign Wars Post 4264 in Steamboat Springs.
"Before we get to Vegas, we'll play a lot," he said. "I'll play games and work on my trouble shots."