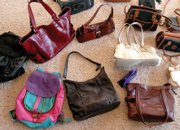 Craig — When Sandra King went to her high school prom, she carried her grandmother's white beaded purse.
Now, almost 25 years later, the 1950s-era clutch is the smallest of an elaborate collection of purses and handbags, spread out on the floor of her Craig home.
King's passion for purses began her freshman year of high school, and her collection has grown to more than 20 bags of varying sizes, colors and purposes.
Many of King's purses are soft leathers and muted colors, however, a few stand out with unique colors and designs.
Currently, her bag of choice is a brown and white giraffe-print purse. It's "fun and funky," she said, and big enough to hold papers for work, a few CDs and her wallet.
But, King is quick to distance her purse obsession from the "Sex and the City" image of accessorizing to extreme degrees with a different handbag for every outfit.
Instead, King said she switches bags every month or so.
"I'm not a big girly girl," she said. "It's just too much work to match the purse and the shoes every time."
A bag for every occasion
Despite King's current love affair with the giraffe purse, she can't use it for everything.
"If I have to go to a wedding or a funeral, it's a little loud," she said.
For evening functions, King has a few small handheld clutches, like the white beaded bag that her grandmother gave to her in the 1990s.
"You know, you always need a little something to carry some Kleenex, lipstick, cell phone and stuff like that," she said.
She has a few other purses she uses for evening functions, like a beaded and sequined purse her mother gave her in 1987. She used it for a wedding recently and brought it to a casino night theme party.
King also has some purely functional bags, like her purple "Shut up and Shop" tote that she brings to her son's golf tournaments.
"It's good to have a bag that you know will last," she said. "You know you're going to toss it around, throw it on the ground. You're hard on them."
It's also important to have a purse that is comfortable on your shoulder, King said. Some bags might look trendy and match your outfit, but if it's not comfortable, it's not going to be suitable for everyday use.
The perfect purse
Even if her husband, Oscar, pokes fun at her collection, he understands the importance of a high-quality bag.
One of King's all time favorites was a gift form her husband.
Located in Kingsville, Texas, the historic King Ranch makes everything from saddles to luggage, usually from materials from the ranch itself.
"I never thought I'd own one," she said about her King Ranch purse. "I mean, first of all it has my name on it. When I saw it I thought, 'This is perfect, I can carry all kinds of stuff in it.'"
But, even if she shelves her favorite bag, she'll keep it forever, knowing one day it might come in handy.
"I just get bored," she said. "And it's always fun to switch things up."