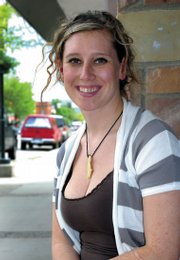 The Craig Daily Press has hired a new education and health care reporter, the newspaper announced Wednesday afternoon.
Nicole Inglis, 23, a Rochester, N.Y., native, begins work at the newspaper today.
She is a December 2008 graduate from the University of Colorado, with degrees in psychology and journalism.
The newspaper is excited about Inglis' addition, Editor Joshua Roberts said.
"There are two things I look for first in any journalist - talent and enthusiasm," Roberts said. "We're fortunate that we have a newsroom full of people who have those traits, and more, and Nikki certainly falls in line with that.
"I think readers will enjoy her personality, and watching her grow as a journalist beginning her career. We're happy to have her at the Daily Press."
Inglis previously worked as an intern at the Vail Daily, where she wrote general assignment stories.
For the Daily Press, she will be responsible for covering The Memorial Hospital, the Moffat County School District and Colorado Northwestern Community College.
She will also be assigned to write general assignment stories.
Inglis said she is looking forward to her first job out of college.
"I am very fortunate for the opportunity to cover education and health care in Craig, and I'm excited to begin my career here," she said. "I grew up in a rural area and am looking forward to returning to a small town. I'm also looking forward to enjoying all of the outdoor activities that Craig has to offer.
"I'm thrilled to be involved in covering the progress of a vibrant small town, and I am looking forward to building lasting relationships with members of the community."
Inglis can be reached at ninglis@craigdailypress.com, or 875-1793.