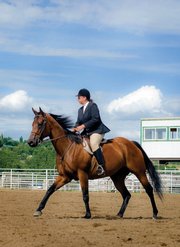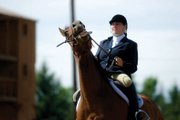 This weekend, horse enthusiasts showed off their prized possessions at the Moffat County Fairgrounds arena.
The open class horse show, which was part of the Moffat County Fair, was divided into an English division Saturday, and the Western division Sunday.
Riders participated in four different competitions that were divided into classes by age.
Liz Lyons, 18, of Steamboat Springs, brought her horse, Derby, to do Hunt seat equitation which involves the judges looking at how she positions and controls her horse, she said.
"She can be kind of difficult, but she's doing better," Lyons said about Derby.
Lyons has been participating in the fair for about six years, but she has been showing horses for eight years.
To prepare for the show, Lyons arrived in Craig early. She got right to work when she was given the pattern she had to use.
Memorizing the pattern takes her about 15 minutes, but for Derby, it takes about an hour.
The time and effort is time well spent for Lyons, regardless of whether she wins. She can't remember her life without horses.
"I grew up around horses," Lyons said. "I've basically been riding since I was a year old."
The same love for horses is what brought out Mackenzie Holmberg, 13, also from Steamboat Springs, to the fair's open show with her horse, Aspen.
This year, she also is using it as a practice before the Routt County Fair in Steamboat in a couple of weeks.
"It's just an activity I got into really young because I always liked horses," Mackenzie said. "I easily bonded, and it's just my favorite thing to do."