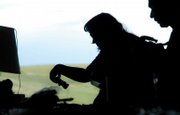 If you go
What: Community meeting for Humane Society of Moffat County's Trap, Neuter, Release program
When: 6 p.m. Thursday
Where: Golden Cavvy Restaurant, 538 Yampa Ave.
• For more information, call Heather Lorio at 824-5438. The group welcomes anyone who wants to humanely address the local feral cat population.
Wild cats don't always recover, but once in a while, it's possible.
"Sometimes they come around after a few days," said Ann Anderson, vice president for the Humane Society of Moffat County.
"But it's extremely rare," Humane Society volunteer, Heather Lorio added.
One of those rare cases was the star at Friday and Saturday's annual garage sale fundraiser in Craig for the Humane Society.
A kitten not yet named was comfortably purring and napping in Marilyn Lighthizer's arms. Lighthizer is also a Humane Society volunteer.
About four days earlier, Lorio had taken the kitten to the Humane Society along with nine other kittens. Three of them were considered too feral and were going to be put down because veterinarians could not get close enough to examine and care for them.
But one made a turn around that saved his life.
"When I saw him and recognized that it was him, my heart just skipped," Lorio said. "I was so amazed."
In August, the Humane Society is planning to launch a Trap, Neuter, Release program with the goal of controlling populations of feral cats in Craig. A feral cat is a cat that has become wild.
Oftentimes, they run in packs to improve chances of survival.
Lorio said the problem has become a big one in the area, and she hopes people will attend a meeting Thursday at the Golden Cavvy Restaurant, 538 Yampa Ave., to support the program.
"We really are overwhelmed with stray and feral kittens," Lorio said.
Organizers plan to start by trapping three or five cats a week but hope with increased support the program will grow.
Once the cats are caught, the Humane Society will administer vaccines to all of them and neuter the males. To tag them before release, a corner of their ear will be clipped.
Lorio stressed that releasing them is the best option because feral cats usually don't become domesticated and can't be adopted.
The garage sale fundraiser raised about $900 during Friday and Saturday.
The money will go to a general fund that helps pay for neutering and spaying animals that don't get adopted so they can be transferred to another shelter.