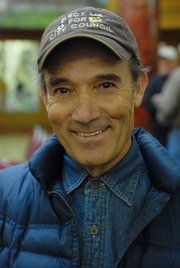 At a glance
• The city of Craig was given an extension until Monday to file its answer to local resident Francisco Reina's civil suit in Moffat County District Court.
• Parties are negotiating an out-of-court settlement.
• Reina's defense team, led by the American Civil Liberties Union, filed its suit after Reina was cited with a municipal violation for spending more of his own money on his bid for a City Council seat than is allowed by city charter.
• Reina's attorneys say the charter violates the right to free speech and cite a 1976 Supreme Court decision as the basis for their position.
Craig — The city of Craig has until Monday to file an answer to former Craig City Council candidate Francisco Reina's civil suit in Moffat County District Court.
Judge Shelly Hill, with the 14th Judicial District, signed an order Tuesday granting an extension for the city's response. The city originally had until July 6, but the judge did not sign the extension until this week.
Reina's legal team, led by the American Civil Liberties Union, filed a complaint June 16 after the city cited Reina for violating a city charter provision that limits a candidate's personal contributions to his or her campaign to $500.
On his spending report filed with the city clerk, Reina declared he spent $1,512.78, more than three times the charter's limit.
Reina was cited with a Class A municipal violation, which carried possible penalties of as much as a $1,000 fine and as many as 180 days in jail. However, City Attorney Kenny Wohl dismissed the citation at Reina's court appearance June 17 after the civil suit was filed in district court.
Reina's complaint against the city alleges that the spending limit is unconstitutional and goes against a 1976 Supreme Court decision, which states any limits on a candidate's personal contributions to his or her own campaign violates the right to free speech.
Court records for the civil suit indicate that part of the reason the city's attorneys filed for an extension is because they wanted more time to negotiate an out-of-court settlement with Reina's defense team.
An attorney with Denver-based law firm Light, Harrington & Dawes - which was appointed by the city's insurance group, Colorado Intergovernmental Risk Sharing Agency - did not return phone calls by press time.
Wohl said he could not comment on ongoing negotiations.
One of Reina's attorneys likewise would not comment on specific terms but did say the negotiations are continuing and have been amicable on both sides.
"It's unusual in the world of litigation to have such cordial cooperation between the plaintiff and defendant," said Mark Fischer, a cooperating attorney with the ACLU who practices privately with the Law Offices of Ralph A. Cantafio in Steamboat Springs.
The city also is taking other steps to deal with allegations that its charter provision is unconstitutional.
At the council's July 14 meeting, its members gave final approval to an ordinance to let voters decide whether to delete the spending limit provision in the Nov. 3 general election.
Fischer said he and his colleagues were glad to see the city take that step because city voters should be allowed to make changes to their charter.
However, the Reina team does not plan to drop its suit because the provision will be up for repeal on the ballot.
"We're looking at a stipulation that deals with every contingency," Fischer said. "If it passes, that would resolve the complaint, and the complaint would be dismissed. The best way to resolve this is to have the voters do it. If that doesn't happen, we're looking at other ways to neuter (the provision) and have the city agree not to enforce it."
Fischer added that he was surprised to hear the council included a line in its ordinance that states the spending limit provision violates a Supreme Court decision.
"Quite frankly, that went further than we needed it to go," he said. "But I don't think they're speaking to us as it pertains to the district court case. They're speaking to the citizens of Craig as to why it's necessary to do this."
City officials hope to engage local residents on the issues surrounding the charter provision before the election, as well.
The council plans to host a public workshop at 5:30 p.m. Aug. 11 at City Hall, 300 West Fourth St., to discuss the provision, the reasons it is part of the charter and whether it violates the U.S. Constitution.
Tami Tanoue, CIRSA general counsel, plans to appear and give legal advice to city officials.
Wohl said he would like to see as many residents show up as is possible.
"It's such an interesting issue," he said. "I hope we get a lot of people with different points of view."