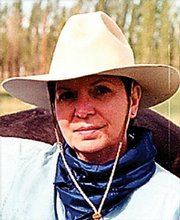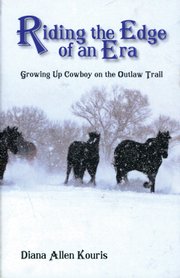 If you go
What: Diana Allen Kouris' presentation and reading of her book, "Riding the Edge of an Era: Growing up Cowboy on the Outlaw Trail," about her life as a child in Browns Park
When: 4 to 6 p.m. today
Where: Museum of Northwest Colorado, 590 Yampa Ave.
• Copies of the book are for sale at the museum. The cost is $35 for hardbacks and $17.95 for the softbound edition.
Craig — It seems modernity has crept into all parts of the world, blanketing all that once was, Diana Allen Kouris said.
She claims to know firsthand. As a young girl, Kouris spent much of her formative years on her family's ranch in Browns Park, aptly named the Browns Park Livestock Ranch.
Now 59, Kouris looks back on that time as a "once was," a time that likely is gone for good.
"We didn't have electricity or telephones," she said. "It was really kind of a pioneer-type of lifestyle.
"Time flowed slowly there. We were able to drink deeply the flavor of the Old West. Ranching goes on, but the way that we ranched, that kind of lifestyle really has gone away."
However, Kouris hopes to at least keep its memory alive in her new book, "Riding the Edge of an Era: Growing up Cowboy on the Outlaw Trail."
She plans to give a presentation on her nonfiction novel and host a book signing from 4 to 6 p.m. today at the Museum of Northwest Colorado, 590 Yampa Ave.
"My dream for the book is people will feel like they lived that lifestyle and those adventures," Kouris said.
Before webs of phone lines, paved roads and satellite signals pulled the world closer together, Browns Park, a 90-minute drive from downtown Craig, was a remote place, wandered through by people who had a purpose for being there, or simply found themselves lost after a gross navigational miscalculation.
"It worked real well for the outlaws," Kouris said. "It was kind of out there, and it was in what we call the three corners area, on the borders of Colorado, Utah and Wyoming. If a Utah lawman was chasing you, you could easily hop over into Colorado and get away."
The locals liked it that way, she said.
Butch Cassidy worked on Kouris' family ranch as a young man and found sanctuary from the law after his rise to infamy as an outlaw.
Cassidy was not the only bandit to find his way to Moffat County.
Browns Park had the dubious honor of being located in the middle of the Outlaw Trail, a nebulous connection of trails and roads that wound from Mexico to Canada.
"There was very little law in Browns Park," Kouris said. "If something happened, the locals would just have to take care of it, which seemed to be fine with them."
Her family's ranch is gone now, along with the traditions it had passed down from generation to generation.
It wasn't bad business that did it in, Kouris said, but the federal government's need for progress.
When U.S. officials built Flaming Gorge Dam in the 1960s, the government purchased several thousand acres north of the dam's location to make room for the reservoir, land that included Browns Park Livestock Ranch.
Kouris said her family didn't want to sell, but after the government threatened to take the land under its right to eminent domain, they had little choice.
"It was really devastating," she said. "That whole part of our life was taken away."
Kouris' visit is the first of two book signings.
Colorado author Bill Reich plans to appear for a signing of his book, "Colorado Industries of the Past."
Reich also will conduct a presentation on Colorado flour mills.