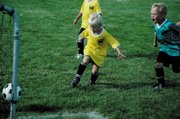 Craig — From pint-sized mid-fielders to aspiring Peles, soccer in every shape and form kicked into action Monday and Tuesday.
The Craig Parks and Recreation youth soccer league, which features footballers ages 5 to 15, has taken over Woodbury Sports Complex with the baseball season over.
On each field, there were brightly colored jerseys and players of all ages, either learning rules of the game or how to perfect a corner kick.
In the 15-and-younger league, there are three teams.
On Tuesday, it was a match-up of the neon green team and the red team.
Ricardo Zaragoza, 12, was playing defense for the green team, which was just fine with him.
"I think I'd rather prevent a goal than score one," he said.
Zaragoza said he likes playing summer soccer because it gives him a chance to reconnect with friends.
"It's fun. It's just something I do," he said. "I've played since I was little."
Katia Voloshin, 11, switches positions from mid-fielder and forward.
"I like forward more, I think," she said. "Probably because it takes a lot of running."
This summer marks Voloshin's fourth on the soccer field.
"I just played a lot of sports, and I thought it would be good exercise," she said. "Basketball is probably my favorite sport, but I like soccer, too."
Like Voloshin, Alex Samuelson, 12, likes playing forward because of the running.
Or, what she gets out from running.
"I like forward because I'm energetic, and it gets all my energy out," she said. "I'm mainly energetic because I eat a lot of sugar."
Angel Dunlap, 13, plays on the same team with Voloshin and Samuelson.
"Soccer's a good way to release some anger," she said. "I don't need to, but I have friends who say it's a good way to take out your anger."
On Tuesday, coaches Chris Herring and Matt Walker watched their yellow team of 5- and 6-year-old players play inspired ball against the green team.
"I played soccer as a kid," Herring said. "And it's something I enjoyed, and I wanted to pass that to my kids."
Walker and Herring have children on the team, which inspired them to volunteer.
"All the kids get to come out here and run around," Walker said. "They get to learn the game and have fun."
Enjoying the game is the main goal, Herring said.
"It doesn't matter who won," Herring said. "It just matters who had fun."