42nd Annual Cottonwood Classic Golf Tournament first day results
name score
Seventh flight
Tony Aragon 102
Gary Baysinger 105
Butch Behrman 98
Fred Boss 101
David Brookshire 109
Randy Delay 99
Marv Draper 99
Phil Gallagher 95
Jack Giessinger 92
Bob Kelly 97
Bill Lee 104
Craig Madsen 106
Kirk McKey 91
Don Nadon 102
Jeff Nelson 94
Toby Romero 102
Don Smith 108
Ted Southerland 113
Six flight
Edwin Anderson 99
George Angelo 92
Bob Armantrout 91
Dave Dremel 90
Hector Flores 90
Fred Frei 94
Adam Hawkins 84
Bo Lyons 86
Dan Moore 90
Darren Olsen 92
Larry Payne 88
Gregg Pietak 97
Pete Pleasant 93
Dwayne Powell 87
Kyle Revell 91
Todd Ruckman 102
Jim Shepherd 89
Brian Skowronski 90
Brett Sperl 96
John Sullivan 96
John Svoboda 94
Rusty Wolfram
Fifth flight
Gary Anderson 89
John Bailey 95
Fred Bishop 85
Michael Chastain 82
Ricky Clark 94
Darrel Crawford 107
Richard Davis 86
Jerry Downing 90
Jim Farris 88
Curtis Gray 88
Berdean Jarman 90
Randy Larson 96
Ed Leech 92
Tony Lobato 88
Trini Loya 97
Mike Luppes 92
Anthony Noble 89
Wayne Rickaby 93
Chuck Sanford 85
Larry Seip 97
Doug Toole 86
Randy Winkler 99
Red Woolley 85
Gary Zulian 88
Fourth flight
Richard Barnhart 90
Bill Day 87
Brad Distel 93
Robert Gordon 95
Troy Gore 88
Bill Gotchey 87
Steve Hafey 92
Bill Hawkins 103
Darrel Irvin 83
Buddy King 89
Mike Kuberry 90
Dick Larsen 106
Jim Loughran 85
Ron Nadon 92
Glenn Navratil 89
Greg Neal 84
Michael Peterson 85
Rod Scott 95
Mike Smith 81
Joe Theis 99
Keith Ulibarri 93
Lee White 100
Dan Zulian 91
Third flight
Danny Adams 83
Barry Alford 83
William Barclay 79
Bud Bower 90
Rodney Branstetter 86
Dutch Denbleyker 82
John Doane 83
Bob Hensley 90
Chester Hinkle 93
Rick Holford 85
Rich Hornbeck 85
Doug Houg 79
Jim Liljedahl 86
Dee Mangnall 99
Nick Moyer 82
Rick Nelson 85
Dave O'Mailia 83
Rick Rayl 78
Jim Reider 85
John Savage 85
Mike Theis 90
Deems Utzinger 78
Scott Woog 79
Austin Zimmerman 86
Ben Landa 81
Wesley Cherry 86
Second flight
Chad Anson 81
Frank Ayala 82
Jon Burnett 80
Earl Cherry 80
B.C. Chong 87
Ronald Cromie 78
Greg Hamilton 80
Pete Heuer 80
Jim Houg 77
David Lawien 81
Robert Markham 83
Jamie McNally 83
Andy Meach 81
Richard Padon 80
Lowell Pearson 81
Eric Pocius 82
Dale Pyle 80
Dennis Shannahan 81
Sean Smith 94
Bob Steinberg 81
Dan Willson 80
Mike Wommack 82
Gary Wuster 85
First flight
Jason Back 81
Kent Bejceck 90
Scott Berry 79
Bob Campiglia 78
Marty Coleman 74
Shawn Cooney 82
Richard Distel 83
Lou Hahn 83
Nick Hensley 82
Rick Hensley 71
Jay Hoefling 86
Craig Horton 88
Mike Keating 84
Steve Kelley 85
Blake Nicholson 88
Bill O'Neill 87
Garrett Pastor 82
Nef Ramos 82
Joe Rukavina 76
Doug Spellman 88
Bob Stahl 77
Rich Woolley 85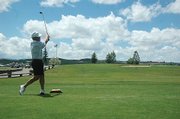 For golfer Gregg Pietak, of Montrose, it didn't look like the 42nd annual Cottonwood Classic golf tournament was going to start Friday morning.
"This morning, it rained like crazy," he said. "It didn't look like it was going to be a good day."
But as the day wore on, the clouds broke, and Yampa Valley Golf Course welcomed 183 golfers to the greens for the start of the three-day tournament.
Pietak, who has competed in the tournament for more than 16 years, the weekend gives him a chance to return to one of his favorite courses.
"The whole atmosphere is super laid-back," Pietak said. "The course is always good, and usually we don't have to fight the weather."
The weather has been good to the course for most of the summer, he said.
"It's been a good year for the course," he said. "It's been in good shape all year."
Pietak said the layout of the course added to its allure.
"It's in the river bottom, and it's short," he said. "The subtleness of the greens is crazy, and for what you pay, you get a lot."
The course's layout adds to its difficulty, Pietak said.
"You always have to shoot below the hole," he said. "It's still tough that way."
Yampa Valley Golf Course club pro Brett Etzler said attendence was down this year, because of the economy.
Usually the course can expect upwards of more than 200 people in the tournament, he said.
But, the people who did come to Craig to golf were in for a treat, he said.
"It's kind of a hidden gem," Etzler said. "I know people enjoy it here, and $150 for three days of golf is a bargain.
"I know people like it here because of the quality of the course, and it's affordable."
Kirck McKey led the seventh flight with a 91, Adam Hawkins leads the sixth flight with an 84, and Michael Chastain leads the fifth flight with an 82.
In the fourth flight, it was Mike Smith leading the way with an 81. In the third flight, Deems Utzinger and Rick Rayl were knotted at 78.
Jime Houg was leading the second flight with a 77.
Rick Hensley had the lowest score on the par-72 course, shooting a 71 on the first day.
The tournament will start today at 7 a.m., at Yampa Valley Golf Course.
Ben Bulkeley can be reached at 875-1795, or bbulkeley@craigdailypress.com.