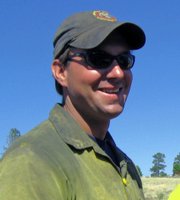 Gov. Bill Ritter issued an order Tuesday morning for the lowering of all U.S. and state flags in honor of a fallen local firefighter.
Capt. Brett Stearns, 29, a Craig resident who served the Bureau of Land Management for 10 years, was killed Friday while working with 12 other BLM firefighters on a hazardous-tree removal project at Freeman Reservoir, 15 miles northeast of Craig.
He was struck by a falling tree, and pronounced dead at the scene.
Flags at all state and federal buildings in Colorado are to be lowered to half-staff today, the governor's office reported.
Stearns was an engine captain and had worked in the fire program for the BLM's Little Snake Field Office in Craig since 1999.
BLM officials said Stearns was a leader, brave public servant, mentor to younger firefighters, and someone who "had the capability to inspire people, all those around him, to go the distance and do their best."
He will be remembered during a funeral at 11 a.m. today at the Church of Jesus Christ of Latter-day Saints Chapel, 1295 W. Ninth St., in Craig.
He is survived by his wife, mother, father, brother and half-sister.