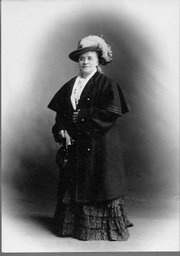 We frequently know a lot about the men who homesteaded Northwest Colorado but little about the women who worked and lived with them.
Sometimes finding that information is nearly impossible - sometimes even a woman's given name is obscured by the customs of the times.
Mary Augusta Wallihan was not one of those women. She held her own in the field and in the community and left plenty of evidence to document her activities.
She was born Feb. 22, 1837, in the small community of Oak Creek, Wis., a small town that was later combined with two others to form the city of Milwaukee. Her parents had come to Wisconsin from their family home in Massachusetts, where their roots went deep and included Revolutionary War patriots on both sides of the family tree.
Augusta's father became one of the first inspectors for the new town and proved to be a committed community leader. Augusta attended Milwaukee's schools with her four siblings.
The family was close-knit, and even after her marriage to Cullen Farnham, a cattle drover 12 years her senior, Augusta lived with her parents for several years. The family eventually left Wisconsin for the West, spending time in Denver before moving on to Salt Lake City, where Augusta, her mother and sister Martha were practically the only "Gentile" (non-Mormon) women living there. Both of her parents died there in the early 1880s and her husband dropped from the scene - whether by death or divorce is unknown.
In 1882, Augusta and her brother Thomas moved to Lily Park, where he was looking for land to build a cattle ranch. Augusta had corresponded with another man searching for his special place and he would become her partner in more ways than one.
Twenty-year-old Allen G. Wallihan left his home state of Wisconsin in 1870 to find adventure in Colorado.
He didn't stay long on his first venture and returned home. After a few years, he realized that he missed the mountains and the spaces in Colorado, and in 1879, he headed back West, spending time hunting in Husted, Leadville and Colorado Springs before moving on to Lily Park.
There were 22 years separating Augusta and Allen (A.G.), but they soon formed a strong relationship. After being snowed in during the winter of 1884-85, they agreed that the only way to maintain their honor was to get married. They headed to Rawlins, Wyo., and were married April 11, 1885.
After their marriage, they returned to Routt County and settled into a log home in Lay.
They opened their home as a roadhouse until 1915 and he also served as postmaster for Lay. They also maintained a weather station and kept weather records for years.
The Wallihans were not typical homesteaders. A.G. didn't like farming and kept only one milk cow and Augusta's laying hens. He preferred to hire others to harvest the hay from his land rather than take the time and energy to do it himself. He was more interested in hunting and viewing the abundant wildlife of their home area.
Early in their relationship, A.G. and Thomas encouraged Augusta to learn to shoot, both for her safety and to help bring in food. As a young girl she had enjoyed watching her father - an avid and accomplished hunter - mold his bullets.
She quickly developed a steady eye and often out-hunted her husband.
A well-known story about her relates to one hunting outing when she became so engrossed with the ants eating the crumbs from her lunch that she didn't notice a herd of deer until they were only a few feet from them. When she looked up, she watched them for some time before remembering the purpose of her outing. She recovered enough to drop one of the deer and later told A.G. that if she had, had a camera, she would have gotten a great photo.
Soon after, she bartered a pair of beaded deerskin gloves she had made for a camera from some visitors to their home. She and A.G. practiced shooting photos and developing the glass plates together. Within a few years he had become a well-known wildlife photographer and they were able to share their photos with people around the world.
In 1900, the couple was invited to display their photographs at the Paris World Exposition. They opened the American West and Northwest Colorado to countless people who could enjoy the bounty vicariously. They also exhibited their photographs at the St. Louis World's Fair in 1904.
Stories about Augusta Wallihan could fill a book. Even as a successful huntress, she maintained the air of a lady, keeping her hair in sausage curls and wearing beautiful dresses for everyday life. She was as comfortable in elegant hotels and ballrooms - and even the White House - in America and Europe as she was in the sagebrush of Northwest Colorado.
She often went hunting or fishing with her dog, Jack, at her side. He was a large collie-type dog that developed a liking to catching fish. He frequently grabbed large trout from the water as Augusta was reeling them in.
Both Wallihans were aware of the need for game management and were frequent contributors to national sportsman's magazines and local newspapers impressing on people across the county the damage that was being done to the herds of deer and elk by overhunting for the commercial market.
"I presume you are wondering how the deer are in Routt County by this time. I can tell you they are being hunted more than ever, and thousands are being slaughtered. I have been told that four large wagons have been loaded to go to Snake River, each wagon being drawn by four horses. This only gives an idea of what is going on. When men having plenty of cattle turn out to kill four-horse wagon loads of deer to take out to f the country it is time to call a halt. We have but a few years left of deer-hunting in Colorado - that is very evident." (Outdoor Life Magazine, Vol. 7, No. 1, 1900)
Augusta Wallihan suffered a stroke in 1922 and died at her home a few months later. She was buried on a knoll overlooking her land and the open spaces she loved. She had out-lived all but one nephew in her family.
A.G. stayed on at Lay and remarried briefly before his death in 1935. He was buried next to Augusta and today the graves remain as reminders of some of Moffat County's earliest settlers who had a world-wide view of life.
A permanent display at the Museum of Northwest Colorado showcases various parts of the Wallihans' lives. From their large format camera and photographs to the guns, gloves and knives that were part of every day life, it is a wonderful way to reach into the past and touch the minds of two people who made such great contributions to Colorado and the United States.
Shannan Koucherik may be reached at honeyrockdogs@msn.com.