How to help
The Moffat County Drug Court committee is accepting donations from residents and businesses that can be used as incentives for program clients who meet requirements.
Some of the incentives awarded to drug court clients in the past have included gas cards, coupons and gift cards.
For more information about donating, call Donna Zulian, 14th Judicial District Attorney's Office administrator and Drug Court committee member at 824-7041.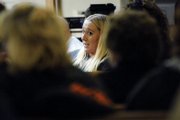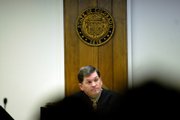 A year ago, Moffat County Drug Court organizers contended that the long-awaited, planned and difficult-to-install program would be worth the effort if it helped a single person.
So far, the program is doing better than that minimum goal, said Michael O'Hara, chief judge of the 14th Judicial District and presiding Drug Court judge.
"I think it's a success if even one person can be helped, and right now, I think six are being helped," said O'Hara, a member of the committee that implemented the program.
With a mission of breaking the cycle of addiction, Drug Court combines the judiciary, prosecution, law enforcement, probation, treatment and mental health communities.
It is a voluntary program for defendants with a felony conviction who are facing probation revocation, and have an underlying drug problem. It requires mandatory drug testing, employment, court appearances and treatment, among other stipulations.
On Jan. 15, the program celebrated its one-year anniversary, and about two weeks later, on Tuesday, it graduated its first client, a 21-year-old woman. The woman - who wished to remain anonymous - had been convicted of possession of a schedule 2 controlled substance, a felony, and her probation was in jeopardy.
However, she was a pioneer Tuesday, becoming the first of the Drug Court's six clients to successfully navigate the 12-month program.
O'Hara handed her a framed certificate of achievement, signed by himself and five other Drug Court representatives.
"It's more about changing your life than avoiding a jail or prison sentence," O'Hara said of the Drug Court program.
One of those representatives who signed the graduate's certificate was Annette Norton, probation supervisor for the 14th Judicial District. She said each client is given "a great deal of support and service, which, in turn, has really positive outcomes and results."
"The reward of actually seeing (clients) make progress in their life is really nice," Norton said.
The Drug Court launched in January 2008 with two clients, and it later expanded to four and then six. It has the capacity to serve 12 clients, but it's uncertain when the program will mature to that level, O'Hara said.
Before Tuesday's graduation, the client roster entailed four women and two men, between 21 and 43 years old. A 38-year-old man convicted of second-degree burglary and theft was recently added as a client, filling the void from graduation.
Although some Drug Court clients have struggled - at least four of them have received at least one stint in jail for an infraction - no one has been ousted from the program.
There has yet to be an offender who turned down Drug Court when offered it as an alternative to legal troubles.
Moffat County is the only jurisdiction in the tri-county judicial district that has Drug Court.
District Attorney Elizabeth Oldham has expressed interest in the past of seeing it expanded to Routt and Grand counties, and organizers support the idea, as well.
There is one catch, though - funding.
"I would like to do that," O'Hara said, "I just have a big funding problem standing in the way."
"With the success I am seeing in the program, from a logical perspective, it would be worthwhile," Norton said. "But we simply don't have the funding for it."
The next Drug Court client graduation is scheduled for Feb. 10.