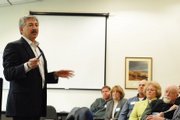 At a glance
Colorado's expected share
U.S. Rep. John Salazar, D-Colo., shared pieces Friday in Craig of how the federal stimulus package now before the Senate can help Colorado's infrastructure. The current bill would provide:
• $565 million for highways and bridges.
• $47.4 million for water projects and state grants.
• More than $100 million for transit and rail.
• $67.8 for public education funding beyond current allocations.
• $1 million in additional Medicaid assistance.
• $15.6 million for the Low-income Energy Assistance Program, which subsidizes family heating costs.
Moffat County Commissioner Tom Gray and 39-year-old Craig resident Patrick Germond, both registered Republicans, now feel a little better about at least one congressional Democrat's plans.
After a presentation by U.S. Rep. John Salazar, D-Colo., on Friday at Craig City Hall, both said they are more comfortable with the pending American Recovery and Reinvestment Bill of 2009, otherwise known as President Barack Obama's stimulus package.
Gray originally thought the government was making a mistake by borrowing money to increase federal spending.
After hearing Salazar discuss the differences between the current stimulus package and the one passed in October 2008 to prop up investment banks, Gray said he is more at ease with what Congress is doing.
However, he remains unconvinced whether things will work out the way Salazar described.
"I know a lot of people who are skeptical that we're digging a bigger hole because we have to borrow this money," the congressman said. "The difference between the stimulus package passed last time and the package this time, this package is designed to create American jobs that will stay here in America."
Putting people to work is the only way to save the economy, Salazar said. A well-paying job makes people feel secure enough to start spending money, which creates demand for business.
Prosperity trickles upward in this scenario, Salazar said, by attacking the root problem to save the rest of the tree.
The stimulus plan has the added benefit of providing a method to repay the federal Treasury, he said, because every new job will contribute to the country's tax base.
Gray did not find fault with the congressman's logic. Creating jobs is essential to any working economy, he agreed, but he wonders if Congress will be able to restrain itself from spending whatever new taxes would be generated.
"I still have some of the same concerns" as before, Gray said. "This will work only if Congress uses the money to pay off that debt, but there's always that incentive to do something bigger and better the next time."
Funding plans
The approximately $819 billion recovery plan now in front of the Senate is the first of several, Salazar said.
The president's fear is that it would be too difficult to track what money is spent if it all were given out at one time, Salazar said, so he wants Congress to pass segments individually.
Part of the reason Salazar came to Craig - and planned to visit six different Western Slope communities Friday and today - is to hear from locals on what needs they have for future stimulus packages and other federal appropriations, he said. Germond, a longtime Craig resident, had a simple take-home message for the congressman.
"A lot of the things I've been seeing with this new spending bill seem like a Democratic wish list," he said. "We need things that make sense for us and that will actually make a difference."
Germond referred specifically to funding for Planned Parenthood, a family planning service that advocates for birth control and abortions as options for women. Salazar said funding for Planned Parenthood was dropped from the final bill passed by the House on Wednesday, but he agreed with Germond's point. The congressman hopes Capital Hill will be able to let go of traditional politics and move forward with definite plans to restore America.
"I don't agree with every part of this bill," Salazar said. "I would hope the infrastructure piece would be a lot larger."
So does Germond, he said after the meeting. He does not want his kids in debt for social programs when the country has bigger needs.
"Tax cuts and infrastructure projects are the only things I support," he said. "I don't mind spending money when we have something to show for it. If the government wants to help us build schools and roads and hospitals, that's fine. If my kid has to pay that debt, at least she still gets to go to the hospital, she still gets to use the roads."
What's in it for us?
Local officials will have to stay alert to bring much of the current stimulus package home to Craig and Moffat County, Salazar said.
"There are no earmarks in this bill," he told the crowd. "The only thing the federal government wants is transparency and accountability. It's up to the states and local governments to get the money out."
Elected officials and residents can use the same resource to see what money is available and how to apply, Salazar added.
A new Web site, www.recovery.gov, will be the central hub for much of the stimulus program, once a bill passes Congress.
Gray said allowing local governments to make their own decisions about what projects need funding is a good and refreshing way for Washington, D.C., to operate.
But there still are layers, and it will take time to see how much authority counties and cities actually get, he said.
"I have a concern that because it first goes to the state, that the state will use its political spin to tell us what programs need to be funded," Gray said. "My belief is, we can decide what is needed the most and how to spend wisely rather than another layer above us or a layer above that."