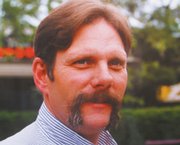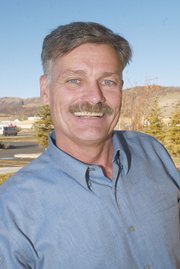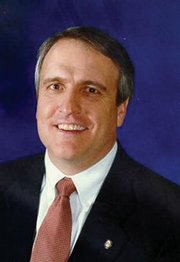 Denver — First-term House District 57 Rep. Randy Baumgardner is defending his attempt to get more money for energy impacted communities by going after one of the few pots of money that is growing while the economy is in a tailspin.
"In my entire campaign, all I heard was we want more of the dollars coming out of the ground coming back to our impacted counties," said Baumgardner, R-Hot Sulphur Springs. "I will do my best to present this bill on behalf of my district and my constituents."
A watered-down version of Baumgardner's House Bill 1051 picked up three Democratic votes to win the endorsement this week of the House Agriculture, Livestock and Natural Resources Committee on an 8-5 vote.
He admits the measure probably faces a tougher audience at its next hearing before the House Finance Committee, which has fewer members representing the rural counties where oil and gas development is occurring.
The revised bill calls for taking the first 10 percent of revenue the state collects for federal mineral leases - estimated at $17.5 million for the fiscal year beginning July 1 - and returning it directly to the counties and communities most impacted by energy development.
An amendment added by the agriculture committee carves out a small share of the pie (15 percent of Baumgardner's 10 percent) for so-called energy conversion counties such as Pueblo and Morgan with large coal-fired power plants.
Critics of Baumgardner's efforts claim he is upsetting two years of hard-fought negotiations that culminated in last year's Senate Bill 218, which directed some of the federal mineral lease revenue to school construction and the higher education capital construction fund.
The fiscal analysis on Baumgardner's bill notes higher education would take the biggest hit.
"It estimates a reduction of $31.2 million over the next three fiscal years for state institutions," said Rep. Jean Labuda, D-Denver. "While I understand the plight of the counties, I can not in good conscious vote for any bill that further takes money away from higher education."
Rep. Randy Fischer, D-Fort Collins, said he served on the 2007 interim committee that recommended a new distribution formula for FML revenue.
"I'm concerned about undoing almost two years of work that developed Senate Bill 218," Fischer said. "I just think it would be a terrible mistake to try to start incrementally undoing all that."
While Baumgardner's focused on the energy impact funds, Sen. Al White, R-Hayden, is looking at the entire state budget as one of six members of the Joint Budget Committee.
With revenue collections falling about $1 billion below projections for the next 17 months, the JBC is working with Gov. Bill Ritter's budget office to balance not only this year's budget, but next year's, as well
The proposed budget for fiscal year 2009-10 that Ritter presented to the JBC this week includes closing the 192-bed minimum security prison at Rifle.
It also includes imposing salary freezes and five days of unpaid furloughs for state employees, suspending the senior property tax exemption for three years, reducing higher education funding by $100 million and much more.
White said the task ahead makes him question, facetiously, why he ran for office.
"What the hell was I thinking?" White joked, but quickly turned serious. "It's going to be a difficult time but we will get through it. Colorado is famous for its resilience."
Other Republicans were quick to put some of the blame for the economic turmoil on Ritter and the Legislature's majority Democrats. Sen. Minority Leader Josh Penry, R-Grand Junction, said the Democrats missed an opportunity to save for a rainy day.
"The free-wheeling spending habits of the Legislature in 2007 and 2008 will make an already difficult budget situation dramatically worse," Penry said. "The dark clouds of recession have been gathering for more than a year, and the leaders of this state have done very little to position us to weather the storm."
Ritter called for a "collective effort to chart a Colorado way forward."
"These reductions, along with the latest unemployment figures released Tuesday morning, should leave no doubt in anyone's mind about the seriousness of the problems we face," the governor said in a news release that accompanied his budget proposal.
Following are some other proposed budget cuts:
• Closing the 210-bed Colorado Women's Correction Facility in Cañon City;
• Selling a Corrections Department-owned 1,000-acre ranch with water rights in Chafee County;
• Closing the 20-bed general hospital at the Colorado Health Institute in Pueblo;
• Closing the 20-bed Therapeutic Child Care Facility at Fort Logan;
• Reducing K-12 funding by $126 million;
• Reducing Medicaid expenses, provider rates and reimbursement obligations by about $150 million;
• Instituting a $10 to $15 user fee for instant background checks on gun permits. The fee would save about $1.6 million in general fund expenditures to the Colorado Bureau of Investigation;
• Keeping vacant or eliminating more than 540 full-time state employee positions.