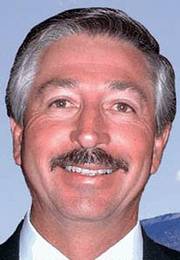 If you go
What: U.S. Rep. John Salazar's discussion with local officials on the federal stimulus package
When: 11 a.m. today
Where: Craig City Hall, 300 W. Fourth St.
The event is not intended to be a town hall meeting. The congressman plans to visit several Western Slope communities today and tomorrow to brief local officials on the stimulus package and how they can receive funding for their communities. However, the public may attend.
Local officials said they were as curious about the federal government's proposed economic recovery plan as many people are.
They hope a late-morning visit from U.S. Rep. John Salazar, D-Colo., can provide some insight into not only the finer points laid out in the bill, but also how much money is available in the first place.
Salazar plans to appear at 11 a.m. today at Craig City Hall to address city councilors, county commissioners and other local officials and discuss the American Recovery and Reinvestment Bill of 2009.
The U.S. House of Representatives passed the bill Wednesday without a single Republican vote. Eric Wortman, Salazar's communications director from his Washington, D.C., office, said many expect the Senate to pass the bill before Presidents Day.
This one piece of legislation will be significant for Colorado, Wortman added, as it has "a little over $7 billion" for Colorado.
"This is a huge package, and the congressman wants to listen to the elected officials to hear what they have to say," Wortman said.
He added that Salazar does not have the authority to pull aside money for Moffat County or Craig specifically, but he wants to be able to educate local leaders about how they can apply for newly available federal funds created by the bill.
"There are no earmarks in this bill," Wortman said. "There will be money available, but it will be mostly a competitive application process."
For example, he said local governments would have the opportunity to apply for grants through the U.S. Department of Agriculture Rural Development.
Exactly how the city of Craig and Moffat County can access those funds is what City Manager Jim Ferree, City Councilor Terry Carwile and Moffat County Commissioner Tom Gray want to hear.
Carwile said he still feels somewhat unsure about the stimulus package in general.
"I've heard it might turn into somewhere around $3 billion for the state, but I'm curious what that may turn into for Moffat County, at the county level," he said. "There's been a lot of things bandied about."
It'd be nice to know what strings are attached to all these funds, as well, Carwile said.
There are several projects across the area that could use funding help, officials said, not the least of which is Colorado Highway 13, north of Craig.
However, that project needs some more work before it can become "shovel-ready," Gray said, so it currently exists as a low priority for stimulus money.
There are other projects aside from roadways, though.
Carwile said the All Crimes Enforcement Team, an area law enforcement taskforce, has lost federal funding for the past few years. He'd be interested in hearing how local governments can re-acquire that money.
Ferree pointed to water and wastewater pipelines renovations throughout the city as possible needs.
But although it seems nice to have a new pot of money to grab at, Gray said he still feels awkward about the situation.
He thinks the federal government is making a mistake by spending more than $800 million in new and expanded government programs. His ideology will not stop him from representing his community, though.
"Philosophically, it isn't what I agree with," Gray said. "Abandoning our free market principles to preserve our free market is like going crazy to preserve your sanity. But, having said that, it's the law of the land now.
"Even if I feel that this is going to put us and our children in debt forever and ever, this is going to happen. Obviously, I represent the people in this county and we have needs now, so we need to make sure we get some of that money. We, the county, will work hard for it."