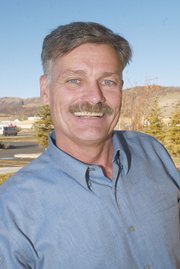 State Sen. Al White, R-Hayden, said he thinks it is time for the Legislature to address game damage issues, especially given the difficulties landowners faced last winter.
White recently introduced Senate Bill 09-024 to the Agriculture, Livestock and Natural Resources Committee. If passed, it would change statutes governing the Colorado Division of Wildlife and how the agency responds to property damages from wildlife.
White said Colorado Farm Bureau asked him to do something on the issue.
"It seemed relevant to me after the recent winter," he said, though he does not think the DOW did a bad job given the agency's resources and the unanticipated circumstances.
Last winter was particularly harsh because of record snowfall, which drove many animals to eat private landowners' livestock feed.
White said his intention is to provide clear directives for the DOW to follow, as well as make certain changes that will help landowners - such as farmers and ranchers - cope with wildlife.
"I think the DOW did as good a job as they could have under the statutory direction they were given," he said. "I think giving them additional directive will allow them to do a better job in the future."
White's bill affects several game damage statutes.
First, it mandates DOW officials respond to any complaint call within 48 hours and conduct a follow-up meeting within five days after that.
It also eliminates the annual Sept. 1 deadline for providing permanent fencing materials to landowners.
Instead, the bill requires the DOW provide materials year-round, within 15 days of receiving a written request, otherwise DOW officers must erect the materials themselves.
Third, White's bill would require the DOW issue kill permits for landowners to shoot wildlife out of season if the animals cause a loss of 25 percent or more of valued personal property.
This would apply to crops, as well.
A landowner would automatically receive a kill permit to shoot wildlife if he or she could prove, with historical data, that the income derived from his or her crops was reduced by 25 percent or more as a result of wildlife damage.
The current draft of the bill also increases the allowable hunter trespass fee from $100 to $2,500, though White said that likely will be removed.
The change would have permitted landowners to charge up to $2,500 for each hunter they allow on their private property and still collect game damage payments from the state.
Currently, landowners cannot charge more than $100 if they want state assistance.
White said he plans to eliminate that portion of the bill because of DOW testimony given to the Agriculture Committee on Jan. 22.
Don Masden, DOW game damage and commercial parks coordinator, testified that increasing the state's game damage liability could increase costs for his agency by $1 million or more.
White said he couldn't ask the DOW to shoulder that large of a burden right now.
Regardless of that change, however, the first-term state senator said he does not expect the DOW's support.
Regardless, White said he will go forward with the bill.
DOW Spokesperson Tyler Baskfield, who is based in Denver, said the issues presented in the senator's bill are not things the agency can easily support or oppose.
"It's not that black and white," he said. "These are issues that affect landowners as well as sportsmen, and everybody needs to be at the table for this discussion. We are not against having these discussions."
Baskfield emphasized the DOW's regret that White did not speak with agency officials or any sportsmen's organizations before introducing the legislation.
"We were kind of blindsided on this," he said. "We can't just start making changes without getting sportsmen involved."
Baskfield also said at least one element of the bill treads on DOW policy, in that the agency requires its officers to respond to complaints within 24 hours, whereas White's bill stipulates a 48-hour time period.
He added that the DOW paid almost $1 million to state landowners for game damage payments from July 2007 to June 2008.
DOW records show the Meeker office, which oversees all of Moffat County, paid almost $200,000 of that, or about one-fifth.
White's bill does have somewhat strong bipartisan support.
It is co-sponsored by two representatives who sit on the Agriculture Committee - Rep. Jerry Sonnenberg, R-Sterling, and House Speaker Pro Tempore Kathleen Curry, D-Gunnison.
The bill still is in committee, but officials do not plan to let it sit dormant.
Baskfield said DOW officials, agriculture producers, sportsmen and legislators plan to meet in the coming weeks to discuss the issues and the bill's future.