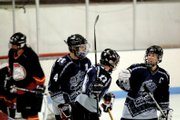 Game statistics
Saturday - Moffat County vs. Crested Butte
Team 1 2 3 F
Crested Butte (5-7-0) 0 0 0 0
Moffat County (8-5-3) 0 3 2 5
Individual scoring:
First Period - none.
Second Period - 1, MC, Baron 2 (Criswell) 4:37. 2, MC, Dubois 4 (unassisted) 5:37. 3, MC, Criswell 16 (unassisted) 8:29.
Third Period - 4, MC, Criswell 17 (Baron) 1:57. 5, MC, Blevins 3 (Robinson) 12:26.
Shots on goal - Crested Butte 14 Moffat County 40
Sunday - Moffat County vs. Crested Butte
Team 1 2 3 F
Crested Butte (5-7-0) 0 0 0 0
Moffat County (8-5-3) 4 3 1 8
Individual scoring:
First Period - 1, MC, Tomlin 3 (Criswell) 2:50. 2, MC, Forgay 6 (Walt) 7:31 (sh). 3, Criswell 18 (Dubois) 8:48. 4, MC, Dubois 5 (Criswell, Bangs) 11:58.
Second Period - 5, MC, Criswell 19 (Tomlin, Dubois) 2:55. 6, MC, Walt 6 (Robinson) 3:57. 7, MC, Walt 7 (Robinson) 5:24.
Third Period - 8, MC, Robinson 1 (Criswell, Dubois) 14:50.
Shots on goal - Crested Butte 10 Moffat County 39
If revenge is a meal best served cold, the Bulldogs Hockey Club dished out a frozen buffet Saturday and Sunday to visiting Crested Butte.
Playing host to the Wolfpack - the team that knocked them from the 2007-08 Rocky Mountain Youth Hockey League playoffs - the Bulldogs returned the favor, skating to a convincing 5-0 and 8-0 two-game sweep.
"It feels good to get the back-to-back shutouts," Bulldogs coach Gene Carson said. "We are on the road to the playoffs, and we have to stay on the main highway all the way there. These two wins keep us on the right track."
In its final home series of the 2008-09 season, Moffat County won its sixth consecutive game effectively ending the defending league champion Wolfpack's chance of a repeat.
With the sweep, the Bulldogs (9-5-3 RMYHL) strengthened their hold on the fourth and final playoff spot, while Crested Butte (5-8 RMYHL) fell out of the postseason picture, six points behind fifth-place Steamboat and 11 behind the Bulldogs.
"We've got a really young team," Crested Butte coach Robert Bramwell said. "We lost a lot of seniors from last year, and about 80 percent of this team are first-year midget players."
It showed during the two-game weekend set.
The Bulldogs peppered Wolfpack goalie Zachary Vandyke with 79 shots in the series and scored on 13 of them.
Moffat County senior net minder Spencer Wayman stopped 14 shots Saturday, while junior Curtis Ellgen pushed aside another 10 on Sunday, powering the Bulldogs to back-to-back shutouts for the first time this season.
Colt Criswell led the Moffat County attack, scoring four goals and helping on four others to finish the weekend with eight points.
Crested Butte forward Samuel Evans, who entered the weekend series fourth in the league in scoring with 32 points (23 goals, nine assists) was held in check by the Moffat County defense and didn't register a point.
The teams were scoreless after the first period of Game 1 until a goal by Moffat County's Jacob Baron 4:31 into the second period opened the floodgates.
Cole Dubois scored less than a minute later, and Criswell's first goal of the series increased the lead to three heading in to the final frame.
Criswell struck again less than two minutes in to the third, and Jacob Blevins' goal 12:26 in accounted for the final margin of victory.
"It could have been better," Criswell said. "I could have scored another goal and got the hat trick. But we knew we had to come out and win, and we did."
The offensive onslaught carried over to Game 2, as the Bulldogs lit the lamp behind the visitors net four times in the first period.
Dubois (2), Criswell and senior Ian Forgay each found the back of the Crested Butte net, as the Bulldogs out-shot the Wolfpack, 16-2, in the opening frame.
"I was expecting them to be quite a bit better than they were," Forgay said. "They didn't really step up, and we finally have our lines together and we are playing really well right now."
Two goals by sophomore C.J. Walt and Criswell's second of the game pushed Moffat County's lead to 7-0 entering the final period.
With two minutes remaining in regulation, Carson put his seniors on the Moffat County Ice Arena floor for the last time.
Defenseman Ethan Robinson responded, scoring his first goal of the season with 10 seconds left in the game to account for the final margin of victory.
"We kept going hard and didn't back down," Robinson said. "We are playing more like a team right now."
The Bulldogs' next game is at 8:45 p.m. Friday in Steamboat Springs.