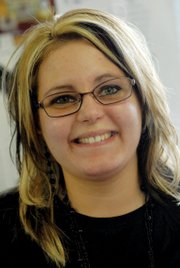 Name: April Cox
Age: 24
Occupation: Manager at Studio 7
Place of birth: Woodland, Calif.
When did you move to Moffat County and what brought you here?
Parents, 2002 after high school
Describe your morning routine.
Get up, take a shower, come to work and have some coffee, pretty much
If you could invite any four people to dinner, who would they be and what would you serve?
Husband, my two best friends, Heidi and Clayton, and I would serve tequila chicken.
What are three things you can't live without?
My husband, job and my dogs
What was the last movie you saw, and what was your opinion in a few words?
"Sisterhood of the Traveling Pants." Chick flick pretty much sums it up.
If you could go anywhere in the world, where would you go and why?
Caribbean, kind of excluded, someplace different
What is the first song on your "lost on a desert island" CD?
"It's 5 o'clock Somewhere" by Alan Jackson
What music, book or movie are you ashamed to admit you love?
American Pie
Finally, how do you feel about the state of the country as a new president takes office?
No comment : (laughing)
• Favorite place in Moffat County? My house
• Favorite month? May
• Low cal or low carb? Low cal
• Chess or checkers? Checkers
• Favorite band? Bon Jovi