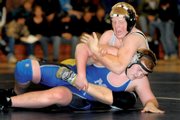 As aspiring young wrestlers, brothers Joe and Roman Gutierrez squared off more than once to see who was king of the mat.
Roman, the "bigger and stronger" one, Joe said, always would come out on top, but would take the time to teach his little brother a thing or two.
The lessons have carried over into adulthood.
Now, both high school coaches, Roman at Moffat County and Joe at Meeker, the duo squared off once again.
Not much has changed.
Roman's Bulldogs dispatched Joe's Cowboys, 63-12, on Thursday night, proving little brother still has a thing or two to learn.
"Right now, we just had the better team," Roman said. "It was like when I used to coach against my old high school coach. Those are the really fun duals."
In Joe's defense, Meeker trailed 42-0 before his team hit the mat.
The Cowboys were short grapplers in the 103, 112, 125, 140, 145, 152 and the heavyweight division, handing six points each to Cody Nelson, Jarred Blevins, Brent Juergens, Matt Linsacum, Scott Mann, Jesse Breslin and Halen Raymond.
"I was excited about it," Joe said of the dual meet against his brother. "I just wish we had more kids."
But, Joe did have an advantage in Thursday's meet: familiarity with the opposition.
"I've been following Roman his whole career," Joe said. "I've always been able to confide in him. He knows all my secrets, but I also know all his secrets."
There was no secret Thursday.
The Bulldogs won 11 of the 13 matches on their way to a convincing 51-point win.
119 - A.C. Crofts (MCHS) def. Ean Burrows (Meeker)
Burrows jumped out to the early lead (3-2) with an escape move midway through the first frame. Crofts returned the favor at the end of the period, grabbing a 4-3 advantage on a two-point takedown. Crofts earned three back points to begin the second frame, and 54 seconds in Crofts caught Burrows on his back and earned a victory by pin.
"Once I was in there, I knew I had to just fight the hands and step over," Crofts said.
130 - Charlie Griffiths (MCHS) def. Clint Sampson
Griffiths took an early 2-0 lead on a takedown. Sampson cut the deficit in half with an escape move, and took a 3-2 lead with a takedown of his own. Griffiths tallied two more pints on a reversal and headed into the second period up 4-3. Two more points followed for Griffiths in the second, and a penalty point against Sampson had him in a 7-4 hole heading in to the final frame. Griffiths managed to lock up Sampson in a Sanders Cradle, earning three more points. Three back points by Griffiths accounted for the final margin of victory.
"After the first, I felt like I was in control," Griffiths said. "It's always good to win at home.'
135 - Jerod Doll def. Nate Moon (MCHS)
Doll was the aggressor in the 135-pound match, taking a 4-0 lead on a reversal and two back points. An escape and takedown by Doll pushed his lead to 7-0 at the end of the second period. In the third, Doll closed out Moon with nine consecutive back points, forcing the 15-point tech rule.
"Let's just say he got on top," Moon said. "It was a tough match."
160 - Troy Vernon (MCHS) def. Chris Ruckman
Vernon smothered Ruckman from the match's onset. A takedown seconds in, followed by Vernon's signature moves, the "Cowboy Up" and the "Figure Four" were too much for Ruckman. Vernon earned the pin in 1:24.
"I was actually trying to work something else," Vernon said. "When I put the legs in (the "Cowboy Up") and his elbow was just kind of hanging up there. So, I tried it (the Figure Four)."
171 - Cody Adams (MCHS) def. Andrew Lawrence
Adams earned two quick points off an escape move, and took control of the match from there. Adams put a headlock on Lawrence and ripped him to the mat, rolling on top and earning a pin 1:49 into the first period.
"I was being cautious at the start," Adams said. "I wanted to see if he was going to be ready for the headlock. I just kind of reacted from there."
215 - Aaron Webster def. Ben Winslow (MCHS)
Winslow and Webster battled to a 0-0 draw through the first period. Webster caught Winslow 40 seconds into the second period, rolled him on his back and earned a pin.
"He got my arm and tugged on it," Winslow said. "I got caught up, and I couldn't get free. I have to be smarter out there."
Moffat County heads south Saturday to compete in Rifle.
Notes: Ethan Kinner (back spasms), Cody Adams (knee) and Nathan Tomlin (concussion) sat out the event with injuries. : Meeker wrestler Andrew Lawrence re-injured his right ankle in his loss to Cody Adams and was taken to the hospital. : Rose Gutierrez, Roman and Joe's mother was in attendance, wearing a homemade shirt with Cow Dogs on it. The Cow for Meeker Cowboys, the Dogs for Moffat County Bulldogs. When asked what team she was rooting for, Rose was quick to answer. "I'm being quiet," she said and pointed to her shirt. : Bobby Gutierrez, the other Gutierrez brother, also was in attendance, shooting pictures. "I think little brother got a lesson tonight," he said.
John Vandelinder can be reached at 875-1793 or jvandelinder@craigdailypress.com