Past Event
Saturday, January 24, 2009, 6 p.m. to midnight
Moffat County Fairgrounds, 640 E. Victory Way, Craig
Not available / $60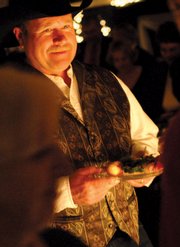 Getting ready for a prom takes a lot of work.
There are tables to set up, decorations to hang, flowers to arrange - and that's all before getting dressed for the actual event.
However, the prom happening Saturday at the Moffat County Fairgrounds Pavilion is not a typical one for high school students.
Instead, it is for adults.
The Craig Rotary Club again will hold its annual Diamonds & Spurs Gala this Saturday, with cocktails, dinner and dancing.
"It's a really nice, classy, fun night to get away in the winter in Craig," Rotary Club Treasurer Randy Looper said about the formal-attire event, often referred to as "adult prom."
"It's one of the few times when people really dress up, but you don't feel out of place in a tux or in really nice jeans and a sweater," Looper said.
Club members spend a full week of evenings dressing up the pavilion, making it nearly unrecognizable at Diamonds & Spurs.
Then, at the end of the week, the community gets to enjoy a night of dining, dancing and luxury, Looper said.
Rotary member Cole White said the club was on schedule Wednesday night with the decorating. White brought his sons, Seth, 5, and Cole Jr., 9, to help with the decorating. He said he wanted to teach them at an early age about Rotary's motto, "service above self."
One event at Diamonds & Spurs is the raffling off of a different jewel every year, which is donated by Kester Jewelry. This year - the 11th - the jewel is a black onyx and ruby slider worth about $1,700.
Other highlights include the meal, which is being catered by Brothers Custom Processing, and the music from DJ Kip Strean of Flyte Sound, who has been the DJ at Diamonds & Spurs for several years.
The event also is a chance for residents to support the Rotary Club and its many service projects, White said.
Annually, $5,000 to $10,000 usually is raised at Diamonds & Spurs, Looper said.
"All of that goes back into the community through different Rotary projects," he said.
They include: putting out American flags downtown on holidays, providing 350 dictionaries to area third-graders; and scholarships for Moffat County High School seniors and Colorado Northwestern Community College nursing students, among others.
Tickets, which cost $60 each, will be available from Looper at the Elk Run Inn in Craig, or by calling 826-4444, until about 5 p.m. Saturday. They also are available from any Rotary Club member. No tickets will be sold at the door.
Jennifer L. Grubbs can be reached at 875-1790 or jgrubbs@craigdailypress.com