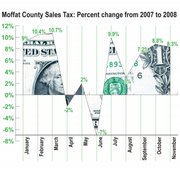 For more
For more information on city sales tax revenue, see "Erratic returns" in Tuesday's Daily Press or on craigdailypress.com.
Sales tax revenue in 2008 was as unpredictable for the county as it was for the city of Craig, County Budget Analyst Tinneal Gerber said.
Much as the city budgeted for no sales tax growth in 2009, the county also scaled back because of the unpredictable nature of the current economy.
"I think we have to go that way to be responsible when you consider everything that's going on," Gerber said. "It seems like we run about one to two years behind the rest of the country, and the country's been in a recession for about a year."
The county budgeted for a 3 percent increase in sales tax revenue in 2009, which Gerber said is a standard growth. By comparison, the county budgeted a conservative 5 percent increase from 2007 to 2008 because the economy looked to be on an upswing.
It seems county sales tax revenue will come in more than budgeted for 2008 because of recent gains in four of the last six months of the year.
However, changes in county sales tax revenue from 2007 to 2008 - which reflect growth or shrinkage in the overall local economy - were up and down.
Officials won't know the total picture for 2008 until December revenues come in next month.
Whereas the city of Craig showed an increase in sales tax returns in every month of 2008 through November when compared to the same month in 2007, county revenues declined twice from the previous year and never increased to the same levels as the city collected.
In April and June 2008, county sales tax revenues were less than collections during the same months in 2007. On a month-to-month comparison, April 2008 was about 2 percent less than April 2007, and June 2008 was 7 percent less than June 2007.
Every other month in 2008 showed positive growth from the same month in 2007. March 2008 was the highest gain, when sales tax revenue grew 10.7 percent from March 2007.
The county's end-of-the-year trend also was positive, with an increase in the growth rate between September and October and only a slight decrease from October to November.
November 2008, the latest numbers to arrive from the state, was up 8.3 percent from November 2007.
The month also came in about 35 percent more than the county budgeted, equivalent to about $89,387 in extra revenue.
Gerber said it was especially good to see that, considering county sales tax revenue was less than budgeted in four other months in 2008.
Gerber added the county will have to examine commercial tax returns in the near future to see where the local economy may be expanding and contracting. She said she cannot divulge confidential tax information for specific businesses but may be able to share industry-wide trends when that study happens.