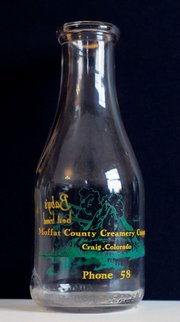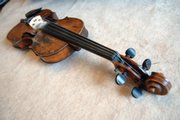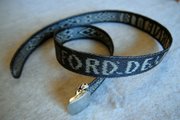 The Museum of Northwest Colorado recently has acquired the following items:
Shaw violin
Leether Redmon, of Craig, recently donated this violin to the Museum of Northwest Colorado in downtown Craig.
The violin was made in the late 1890s by Craig resident Fred Shaw. Not much is known about Shaw, but according to Redmon, the violin itself later was owned by Redmon's uncle, a local bachelor named Harry Hindman. Harry was the son of early pioneers and was raised east of Craig at the site of today's Wyman museum. He was well-liked and sociable, and frequently played his violin for dances in town, including those at the Armory.
After years of use, the violin was restored by Moffat County rancher and violin maker Tony Balleck in the 1960s. This violin's sound was so good that Balleck wanted to trade for it, but Redmon kept it until he donated it to the museum.
Creamery bottle
Dairy farming in Northwest Colorado was a major industry for a number of decades, starting in the 1910s.
Local farmers would send their milk to Denver creameries by train until the Craig Creamery opened after World War I. The creamery was bought by David Clow in 1926 and was renamed the Moffat County Creamery. The creamery operated in the Breeze Street building that now houses Samuelson's Hardware Store.
During the years, the creamery boasted numerous improvements to its production and facilities, and its products were marketed under the brand name "Yampa Valley Dairy," as well as "Moffat County Creamery."
Unfortunately, by the 1960s, government regulations for the dairy industry were tightened so much, that local farmers gradually began to sell off their dairy herds. The Moffat County Creamery operated until 1978, when it finally closed its doors.
This particularly unique milk bottle was purchased for the Museum of Northwest Colorado collection using memorial funds.
DeJournette belt
This belt, made of horse-hair, was braided by Lee Martinez who worked in the 1920s, for Browns Park rancher Ford DeJournette.
Martinez, on one occasion, after being out in the hills for quite a while herding sheep, went to Vernal, Utah, and got drunk. He left town on a stolen horse and rode to Manila, Utah, where he sold the horse and saddle.
Upon sobering up, he found a sheepherding job in the Manila area until he was arrested for horse stealing in August 1930. He was sentenced to prison where he made this belt for his former employer.
After serving less than a year in prison, he was released to parole under supervision of DeJournette.
Martinez later moved to Craig where he raised a family.
This belt, graciously donated to the Museum of Northwest Colorado by Richard DeJournette, is a fine example of work done by prisoners in many state penitentiaries.