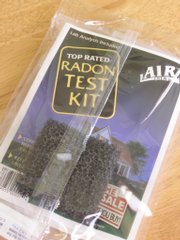 January is Radon Awareness Month
• Free radon test kits and information are available at Extension offices in Moffat County, 539 Barclay St. in Craig, 824-9180; and Routt County, in the Courthouse Annex, 136 6th St. in Steamboat Springs, 879-0825.
• For Colorado radon information, including low income mitigation assistance and referrals for mitigation contractors, visit www.coloradoradon... or call 1-800-846-3986.
• For consumer guides, including "Consumer's Guide to Radon Reduction" and "Home Buyer's and Seller's Guide to Radon," visit www.epa.gov/radon... or call the National Safety Council at 1-800-557-2366.
There are many radon myths. Among them: Radon only affects certain types of homes or that a person can rely on a neighbor's radon test to indicate levels in their own home.
"There's no way to guess if you have high levels of radon or not," said Greg Pohlman, a home inspector and radon mitigation contractor in Steamboat Springs. "It doesn't matter the age or cost of the home. : It can be tight construction or leaky old construction. The determining factor is the levels of uranium under your home."
Radon is a colorless and odorless gas released by the decay of uranium found in soil and water throughout the U.S. Radon decays into radioactive particles that can get trapped in the lungs.
Radon is the second leading cause of lung cancer in the U.S, behind smoking, and it kills about 21,000 people each year, estimates the U.S. Environmental Protection Agency.
Although not everyone exposed to radon will get lung cancer, smokers who breathe higher levels of radon face a significantly higher risk of developing the disease than nonsmokers.
The good news is testing for radon is easy, and mitigation - which typically costs between $1,500 and $3,000 - significantly can reduce levels of the gas in a home.
The EPA estimates that one in 15 homes in the U.S. have elevated levels of radon, defined as 4 pCi/L (pico Curies per Liter) or more. Radon gas can enter a home or building through cracks or holes in the foundation, walls or floors, cavities inside walls, gaps around service pipes and through the water supply.
About 80 percent of Colorado, including Moffat County, is at high risk for elevated radon levels, according to the EPA's radon zone map.
The Routt County Extension office, which offers free radon test kits and tracks the results, is noticing that Routt County - considered at moderate risk by the EPA - has a higher radon risk than previously thought.
"We are finding we have as high a risk as all other counties in the state," said Karen Massey, family and consumer science extension agent.
Although many people stop by the extension office to pick up a radon test kit, some don't carry through with the test, which needs to be placed in a home's lowest livable spot away from drafts for three to five days. The kit includes an addressed stamped envelope to send to the testing laboratory.
"Not only should you get a free test kit, you need to use it," Massey said.
If the results of the free radon test or short-term test are 4 pCi/L or higher, the EPA recommends a homeowner follow-up with either another short-term test or a long-term test, which must remain in a home for 90 days and is more likely to reveal a home's year-round average radon level.
If the long-term test result or the average of two short-term tests is 4 pCi/L or more, a homeowner should fix their home to reduce radon levels. Because there is no known safe level of radon exposure, the EPA recommends homeowners also consider fixing their homes for radon levels between 2 pCi/L and 4 pCi/L.
There are several ways to reduce radon in a home, depending on the home's design and other factors.
Colorado does not regulate or license radon inspectors or mitigation contractors, so it's important for homeowners to do their research in choosing a mitigation contractor as they would with any building or repair professional.
The Colorado Department of Public Health and Environment keeps track of radon professionals who have been trained and certified by the National Environmental Health Association.
Homeowners should get bids from several contractors, who should visit the home and talk with homeowners about the most effective and aesthetically pleasing locations for mitigation apparatus, Pohlman said.
Installing radon reduction methods when a new home is built is considerably less expensive than mitigating a problem after construction.
"Everybody should be doing that. : It just makes sense," Pohlman said. "There's no way of knowing if radon levels are high until you finish your house and do a test."
The EPA notes that it is especially important to test for radon before beginning a major structural renovation so radon resistant techniques can be included inexpensively in the renovation.
Homeowners also should test for radon after the project because major renovations can change radon levels in a home.
- Tamera Manzanares can be reached at tammarie74@yahoo.com.