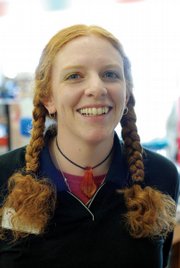 Age: 26
Occupation: Assistant manager
What should your business card say you do?
"Will make you laugh."
Place of birth?
Craig.
Favorite thing to do in Moffat County?
Float the river.
Describe your morning routine:
Watch cartoons with my son and read a book. I can do the two at once.
How would your friends describe you?
Huge dork.
What is one of your favorite authors and why?
Diana Gabaldon; she's a great escape.
Favorite superhero?
Batman.
If you could invite any four people to dinner, who would they be and what would you serve?
Charles Darwin and Kent Hovind, just those two, evolutionist verses creationist, and turkey chili, that's what I would make.
What are three things you can't live without?
God, husband and a smile.
What is the first song on your "lost on a desert island" CD?
"Euphoria," by Leftover Salmon.
What music, book or movie are you ashamed to admit you love?
I'm never ashamed to admit anything.
If you could go anywhere in the world, where would you go and why?
Ireland. I love the culture.