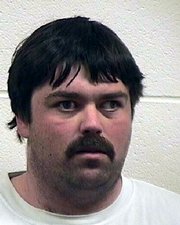 A Moffat County District Court judge ordered a convicted drug distributor to jail Tuesday afternoon, after the court learned the man had failed to complete requirements of a pre-sentencing report.
A jury convicted Russell McDiffett in November of distribution of a schedule 2 controlled substance, a Class 3 felony. He was scheduled for sentencing Tuesday afternoon in District Court.
However, sentencing was continued to 2 p.m. March 25 because of problems with McDiffett's pre-sentencing report.
In a Jan. 5 filing with the court, a county probation officer reported McDiffett's "non-compliance with the pre-sentence investigation process." Probation officer Stephanie L. Harbison wrote that the defendant hadn't complied as of Dec. 23, 2008. He later requested to reschedule an appointment for Jan. 5.
"The defendant failed to appear on Jan. 5, 2009 as scheduled," Harbison's filing told the court. "He has not contacted this officer as of the filing of this report to reschedule."
Based on this, Michael O'Hara, chief judge of the 14th Judicial District, ordered McDiffett taken into custody so a pre-sentence report could be completed.
McDiffett's attorney, Larry Combs, who appeared by telephone, requested his client be given another opportunity to complete the interview on his own.
O'Hara denied the request.
McDiffett, who was free on bond, may be released again once the report is completed, the judge said.
The Moffat County Jail reported Tuesday night that a Moffat County Sheriff's Office deputy escorted McDiffett to jail and that he was in custody pending completion of the pre-sentence process.
McDiffett was one of 10 suspects convicted on drug-related charges, which stemmed from a 2008 All Crimes Enforcement Team investigation into area cocaine and methamphetamine distribution.
He submitted Tuesday afternoon a letter of recommendation to the court. The letter, signed by Gary D. Wynne, said that Wynne has used McDiffett as a handyman around his house in the past.
"Rusty has always been courteous and kind," according to Wynne's letter. "And I have always trusted Rusty to be at my home while I was away at my job.
"I believe that given the chance, Rusty will prove to be a productive and dependable citizen."
McDiffett could be sentenced to either the Department of Corrections, probation or community corrections.
Prosecutor Jeremy Snow said he will not decide on a formal sentencing recommendation to the court until he reviews McDiffett's completed pre-sentence report.
Joshua Roberts can be reached at 875-1791, or jroberts@craigdailypress.com.